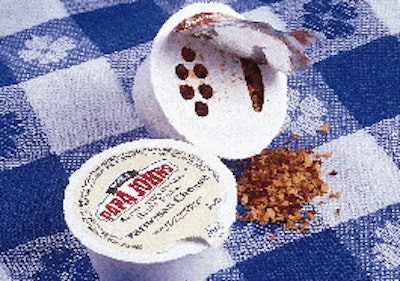 As this issue of Packaging World went to press, Papa John's pizza outlets nationwide were expecting to receive a new "shake-n-pour" container for crushed red pepper and parmesan cheese that lets off-premise customers easily season the pizza.
This is possible through an unusual flexible shaker lidding supplied by Label Makers (Pleasant Prarie, WI). The lid includes two key layers. One is a top layer of 50# paper printed flexographically in five colors/adhesive/0.00035" foil. This later can be peeled from either side, one to expose tiny holes that permit shaking, the other revealing a larger ellipse for pouring. This top layer is adhesive-laminated to a 30# paper/adhesive/48-ga polyester structure with heat-seal coating that adheres to the lip of a white, high-impact polystyrene cup, thermoformed by Winpak Portion Packaging (Bristol, PA).
The ability to peel the top layer from opposite edges of the cup distinguishes this lidding from the previous version. When peeled open, the former lidding exposed both the shaker holes and pour ellipse, as shown in the inset photo at right. Papa John's expects containers with the new lidding to reach individual restaurants this summer.
"We've used Label Makers before to produce lidstock for our Italian seasoning cups that we introduced in 1996 to coincide with a new thin-crust pizza," explains Dana Tilley, senior director of R&D/quality assurance for Papa John's. That lidstock, which permits shaking only, is still used for Italian seasoning cups. "The new shake-'n-pour lidding is used for all of our pizzas," she notes.
Contract-packed
According to Tilley, lidding and cup materials were specified by Papa John's contract packer, Osceola Foods (Osceola, AR). Osceola receives lidding rollstock from Label Makers and heat-seals it to the filled cups. When asked to describe the filling process, Osceola's Mart Massey said that the company had designed and developed a proprietary process that is patent-pending. Therefore, he couldn't reveal any details about the process or fill rates.
Osceola ships filled and sealed cups to any of Papa John's 10 PJ Food Service Commissaries that service the 1깪 restaurants across 42 states.
The shaker cups fit nicely into a die-cut section of the 150#-test, B-flute corrugated pizza boxes supplied by Jefferson Smurfit (Clayton, MO). Boxes are flexographically printed in two colors with the Papa John's logo.
Stronger image
"Since we first started using the shaker cups for our Italian seasonings in April, our restaurant employees have been really happy because they no longer need to fill them by hand," Tilley reports. "Until then, our restaurants brought in bulk products and manually filled them into cups and put lids on them. We had additional labor costs at the stores to handle this preparation step.
"We have a much nicer presentation now with our logo printed on the lidstock of the cup, and it reflects quality." She says that even though the costs of having the seasonings filled outside are higher than having restaurant employees do the job, "the finished pack image is much nicer from a consumer standpoint. We've had nothing but positive feedback on the shakers."
Companies in this article