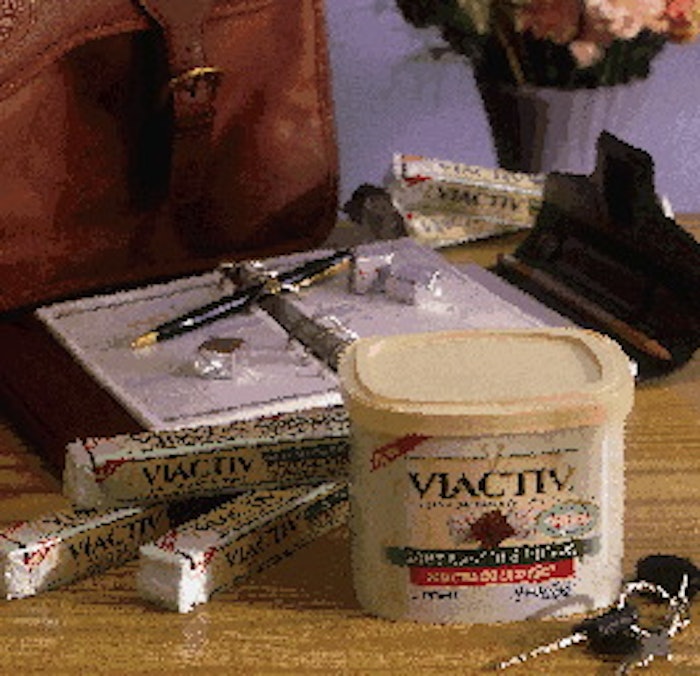 Convinced that a "revolutionary" new form of calcium supplement required equally novel packaging, Mead Johnson Nutritionals launched its Viactiv(TM) Soft Calcium Chew in two package formats unique in the nutrition supplement arena.
"As we looked at the packaging used for the vitamins and minerals category, we felt differentiation was all-important," says Viactiv brand manager Tom Hancock. "The store shelf today for this category holds basically the same plastic bottle in the same folding carton that it has for years. We wanted to stand out. Cost was certainly a consideration, but it wasn't the end-all, be-all."
Evansville, IN-based Mead Johnson wanted a bold, one-of-a-kind package with consumer-friendly features that would establish an immediate presence on the retail shelf and also provide the protection necessary to maintain product integrity. It achieved all this by specifying the Linearpak® nonround composite container from Sonoco (Hartsville, SC).
Along the way, a second package evolved: a 12-count "purse pack." Once again the supplier was Sonoco, this time the Flexible Packaging Div.
First in the category
Rectangular in shape with round corners and slightly bowed-out sides that make the container easier to grip, the Viactiv canister was only the second Linearpak application to be commercialized when it debuted last December. On specialized high-speed equipment, Sonoco constructs the canister by first gluing together on a mandrel four distinct substrates. The innermost substrate is ionomer resin/foil/low-density polyethylene/kraft paper; the ionomer is DuPont (Wilmington, DE) Surlyn®. Next are two plies of recycled kraft. Finally comes the label, a 40# paper gravure-printed by Sonoco Flexible Packaging in eight colors plus varnish.
Next Sonoco cuts individual canister units from this long tube of material and stamps into each canister a bottom that has a Surlyn/foil/LDPE/paperboard structure. A heat-seal station then joins bottom to canister with a Surlyn-to-Surlyn bond. The finished canister holds the same volume as a 401x307 round canister.
Holding 60 individually wrapped chews, the package is so unique that Mead Johnson expects it to provide a virtual exclusive on the package type in its product category. "We considered a ton of other options, and we exposed them to focus groups as well," says Hancock. Among the qualities that Mead Johnson liked in the canister, adds Hancock, is that it has nice "taste cues," almost as if it bordered on the food category rather than the supplement category. The canister sells for about $7.50.
Viactiv chews are made for Mead Johnson by a contract manufacturer that also wraps each chew in a foil/cellophane material supplied by Lawson Mardon (Northbrook, IL). The canisters are filled by another contract packager, Olmarc Packaging (Northlake, IL), at about 50/min. Heat-sealed to the curled rim of the canister is Sonoco's Safetop® tabbed membrane, consisting of paper/LDPE/foil/Surlyn. The foil in this membrane complements the foil in the canister sidewalls and bottom to deliver the moisture and oxygen barriers that keep the product chewable and potent. Olmark ink-jet codes the bottom of the canister with a 15-month shelf life.
Also applied by Olmarc is an overcap injection-molded of linear LDPE. The overcap facilitates repeated opening and closing after the foil membrane has been removed.
The purse pack
A third contract packager, Consolidated Brands (Altoona, PA), wraps the 12-count purse packs for Mead Johnson. Using in-house equipment modified for the task, Consolidated manages anywhere between 30 and 50 packages/min. As Hancock puts it, "We're still working through some automation issues with the purse pack."
The flexible wrapping material is an adhesive lamination of polyester/paper/foil/PE. The paper adds weight to the structure and provides dead-fold characteristics, while the foil adds moisture and gas barrier properties. The polyester is reverse-printed on a gravure press in nine colors. And the LDPE carries a cold seal coating. The 15-month shelf life is ink-jet-printed along the side of the package near the "supplement facts" box.
Priced at about $1.75, the purse pack serves two purposes. It allows consumers to try the new soft calcium chew at a price point considerably lower than that of the 60-count canister. But it's also designed, as the name suggests, for convenient portability.
The purse packs are manually packed in a 12-count display carton supplied by Keller Crescent (Evansville, IN). It's an 18-pt SBS structure printed offset in six colors plus aqueous coating. The paperboard carton is shrink-wrapped as well. Consumers don't purchase the purse packs in this 12-count format. It's intended as more of a shelf-talker and in-store display aid.
Viactiv was introduced nationwide in two flavors last December in pharmacies, food stores and mass merchandise outlets. Print ads and free-standing inserts in Sunday newspapers began in March, and according to Hancock, they brought "a big lift in sales." Now that Mead Johnson's targeted consumers, women age 35 and older, have been introduced to Viactiv, the company expects to see a steady growth in sales.
Companies in this article