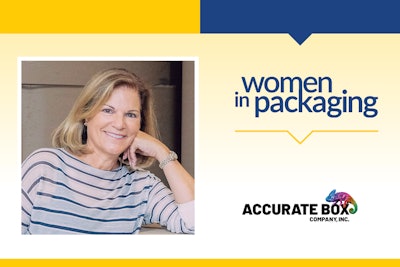 In an exclusive interview featured in Packaging World's Women in Packaging July supplement, we had the privilege of speaking with Lisa Hirsh, President and CEO of Accurate Box Company. As a third-generation leader in the family-owned business, Lisa shares her remarkable journey and the challenges she faced as a woman in a male-dominated industry. With over four decades of experience, she offers valuable insights into her keys to success and her vision for empowering women in leadership positions. Don't miss this captivating interview with a trailblazing expert in the B2B packaging space.
What is your name and position?
Lisa Hirsh, President and CEO, Accurate Box Company.
What is your background? How did you get into the Packaging Industry?

I was born into the packaging industry. Accurate Box is a family-owned business, and I'm the third generation to take over. My grandfather, Henry Hirsh, founded Accurate Box in 1944 by purchasing used equipment to start manufacturing boxes. His son and my father, Charlie Hirsh, took over the company in 1960, and in 1982, I joined the company after graduating from college. I liked operations right away. I was fascinated with how to improve our set-ups to get more jobs through our process. Now, 41 years later, I'm guiding my daughter, Samara Ronkowitz, who is the company's fourth generation, in the business.
What are some of the challenges that you have faced as a woman in a male-dominated industry?
The biggest challenge I faced being in a male-dominated industry since I started back in the 1980s was being underestimated. I remember being told not to go out on the plant floor because I would get hurt. Not a lot of women were in manufacturing at the time. When I went to my first industry meeting in my 20s, there were 200 people in the room from many different companies, and I was the only woman in the entire room.
What do you think are some of the key factors that have contributed to your success in the industry?
My father is my biggest inspiration and role model, and I contribute the success to him. I learned a lot while working alongside him for 15 years before transitioning into the role of president. I learned it's important to surround yourself with a great team to help solve problems. Also, once Accurate Box started to grow rapidly, I focused on the company's core values and stuck to them to maintain our culture as we grew.
What can the industry do better to support women and increase the number of women in the leadership positions?
Our biggest issue is the leap into manufacturing. It's a very small group of women that go into manufacturing and there is a small pool when looking for experienced leadership. We need to introduce young people into the industry earlier through internships and mentoring, so they gain more knowledge and experience in our industry.
What advice would you give young women who are considering a career in packaging?
There is a huge opportunity in packaging because it is a maturing industry that is here to stay, and we are looking for young, interested managers. Once you're in the industry, look for knowledgeable people to learn from. Also, get involved in organizations to gain outside perspectives and advice from those who are in similar positions. I joined the Young Presidents Organization (YPO) when I became president which was terrific for me because I had an outside sounding board of people who were also running businesses. It's been 23 years now, and I'm still with the same group. It's been life changing.
Companies in this article