Amcor Flexibles has been diving deeper into the realm of recyclable paper-based packaging, and recent trials and tests in Australia and Europe have provided insights into their latest efforts. The main aim is to design packaging that's efficient for recyclability, while also maintaining the necessary quality and protection for products inside.
Just ahead of PACK EXPO Las Vegas, the company announced the North American launch of curbside recyclable AmFiber Performance Paper packaging, part of the company's AmFiber portfolio. Prequalified by How2Recycle, performance paper meets the re-pulpability standards for curbside recycling, allowing brands to provide consumers with more sustainable end-of-life outcomes for packaging. PACK EXPO Las Vegas served as the first big debut of the tech.
Paper-based packaging alternatives employ innovative technologies to deliver the right barrier, shelf-life, and machine performance to meet brand and product needs. Consumers often seek paper-based packaging to deliver a more sustainable end-of-life, due to widespread curbside paper collection and recycling. And on the shelf, paper-based solutions meet consumers' preferences for a natural look and feel.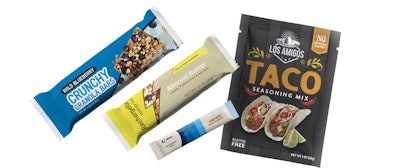 "Brands now have more choices than ever when it comes to packaging their products in formats and materials that attract consumers and meet their sustainability goals, while still achieving the operational performance they require," says Brian Carvill, Amcor Flexibles North America VP of R&D. "AmFiber Performance Paper, part of the AmFiber portfolio, along with our dedicated research and development team, can make the conversion from plastic to paper effortless and advantageous."
AmFiber Performance Paper is a high-barrier laminated paper that is recyclable in most paper recycling streams, earning the How2Recycle pre-qualification of "widely recyclable." It provides improved barrier and packer efficiency compared to the existing coated papers, and is PVdC-free.
"It's great to receive this independent validation as it should help consumers easily recycle packaging made of AmFiber Performance Paper through curbside paper recycling," adds Ilya Syshchikov, Vice President Global Product Management AmFiber.
Amcor's product portfolio includes options for confectionery, bars, cookies, cereals, dry beverages, and dry mixes. Format applications are ideal for cold-seal flow wrap and three-side seal sachets. AmFiber Performance Paper runs on existing flexible packaging equipment, achieving machine speeds comparable to plastic-based packaging.
Testing across the world leads to U.S.-version unveiled at PACK EXPO Las Vegas
At PACK EXPO Las Vegas, Desmond VanHouten, senior marketing manager at Amcor, described the trials they have been conducting in the UK and Australia, and how they relate to the new U.S. launch. Interestingly, while the essence of the product is consistent across these regions, its exact form varies due to the unique requirements of different recycling systems, ranging from curbside recycling methodologies to the capabilities of Materials Recovery Facilities (MRFs). Such regional customization ensures the packaging is most suited for its intended market.
The primary challenge in developing recyclable packaging, especially those that combine different materials like paper and foil, lies in the recycling process itself. A significant point of emphasis for Amcor is to ensure that their packaging material has over 80% fiber content, which is the recyclability threshold for the U.S., a number that varies internationally. Furthermore, during the recycling process, barrier layers need to be removed to retrieve recoverable fibers.
Another critical requirement in the development process is maintaining fiber length and quality. For a product to qualify for curbside recyclability, fibers shouldn't be too short or degraded. This ensures that the recycled material is still of high quality, essential for producing a good product post-recycling.
Shelf life remains an essential metric for customers, especially in the confectionery and dry mix segments. According to VanHouten, Amcor's new packaging solution offers a shelf life comparable to that of metalized OBD. It's crucial to note that while the packaging possesses a commendable moisture barrier, it might not provide as formidable a barrier as traditional foils. However, its performance seems promising, as many of Amcor's clients believe it will suit their needs.
The aesthetics and tactile feel of the packaging haven't been ignored. For those curious about the packaging's appearance, it sports a paper exterior. When torn, the metalized interior becomes visible. VanHouten clarified that the version on display at the show used metalized film, with several options under consideration—for instance, for applications where metal detection operations renders metalized film unusable. In those cases, Amcor is also exploring alternatives to the metalized layer. Potential solutions could offer different layers of barriers that might not necessitate metalization.
VanHouten says that ongoing developments and trials highlight their commitment to providing efficient, recyclable packaging solutions tailored to regional requirements. The company's iterative approach, combined with feedback from their clients, ensures they remain at the forefront of addressing the ever-evolving challenges in the packaging industry. PW
Companies in this article