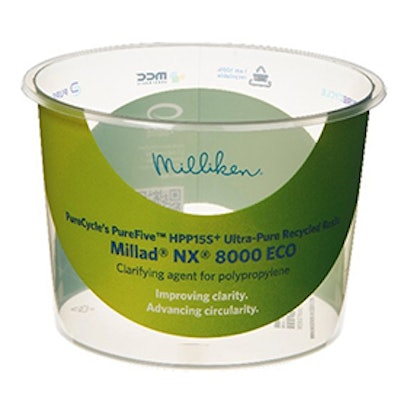 Milliken will show how leveraging creative innovation, trusted expertise and collaboration across the value chain has helped the company develop solutions that can make plastics more reusable, recyclable and efficient. Milliken offers customers opportunities to achieve sustainability goals through lightweighting, upgrading recycled content, conserving energy, simplifying recycling with mono-materials, and reducing carbon footprint via inter-material replacement of less-sustainable resins.
Milliken has engaged with many organizations in purposeful collaborations that include its ongoing partnership with PureCycle Technologies, whose patented technology turns recycled polypropylene (PP) into virgin-like material. By participating in these industry relationships, Milliken is helping to advance the circular economy through chemistry—part of its 2025 Sustainability Goals.
Milliken will exhibit:
• Millad® NX® 8000 ECO (shown), a clarifying agent for PP that enables faster production rates and reduced energy use. This product is certified by Underwriters Laboratories (UL) to provide an average energy savings of 10 percent during the injection molding process.
• NX® UltraClear™ Concentrates for PP, which replace the milky appearance of standard PP with high clarity and gloss for packaging applications. In addition to easy recyclability, NX UltraClear PP is lighter in weight, consumes less energy and produces lower emissions vs. other clear packaging alternatives.
• DeltaMax® performance modifiers for PP impact copolymers (ICPs), which enable an improved balance of material properties and optimize processing efficiencies. INVISTA, a leading U.S. PP resin manufacturer, uses DeltaMax modifiers to produce a new ICP for thin-wall injection molded (TWIM) food packaging. In this material, DeltaMax modifiers deliver superior impact strength, high melt flow and good stiffness simultaneously.
• Hyperform® HPN® performance additives for PP, which deliver an improved balance of stiffness, impact resistance and appearance while reducing energy use. Hyperform HPN additives are certified by UL to enable 5-8 percent energy savings when used as a nucleator for TWIM container lids and similar PP applications.
• UltraGuard™ Solutions, which enable downgauging to reduce material usage and part weight while improving barrier properties in polyethylene (PE). These enhancements allow designers to create more products with mono-materials to facilitate recycling.
Companies in this article