This content was written and submitted by the supplier. It has only been modified to comply with this publication's space and style.
AkzoNobel has announced a new pilot manufacturing plant at the Huron, Ohio, facility providing advanced capabilities for the company's next generation Accelshield™ packaging coatings, connecting innovation and research and development with trials and production. Huron's pilot plant is an extension of the work that has been done at the company's Strongsville global resin research and development center and ensures the company is consistently meeting market needs as it scales up resin innovations. The company hosted a grand opening ceremony on June 14 that was attended by employees and community leaders.
Huron's new pilot plant is one in a network of pilot plants globally, and Ohio serves as AkzoNobel's largest footprint in North America,with locations in Huron, Strongsville, Springfield, and Columbus. AkzoNobel looks forward to continued investments and growth in Ohio and beyond.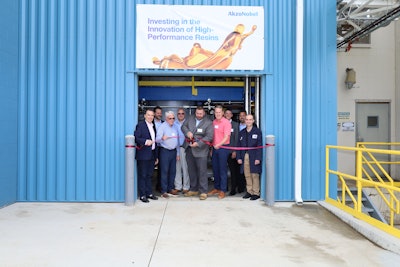 Says Manoel Rodrigues, regional commercial director for Metal Coatings Americas, "As AkzoNobel partners with the industry to ensure the safety and quality of the canned food and beverage supply in North America, we have taken a major step to enhance our ability to innovate and develop next generation packaging coatings with speed and agility. This new pilot plant will accelerate our time to market for new products and technologies. It also further builds on our customer-centric approach and strengthens the capability to adjust specifications to customer needs. The addition of this pilot plant is an exciting next step for the future of our Huron factory and our continued success in the packaging coatings industry."
AkzoNobel has invested in expanding in-house resin manufacturing as part of its global resin strategy, and Huron is the next step in expanding resin capabilities in North America.
Says Nate Norris, NAM manufacturing and supply chain director, "Huron's pilot manufacturing plant strengthens our industry-leading resin expertise as we further invest in our resin research and will help us secure sustainable business growth. As we continue to support our innovation pipeline, the pilot plant will also improve our ability to transfer technology among our sites and enhance our global supplier capabilities."
Companies in this article