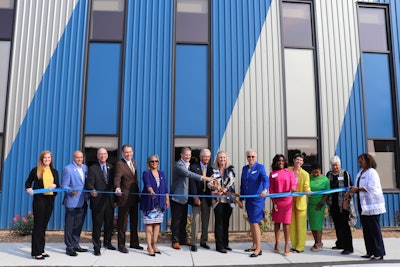 Morrison Container Handling Solutions
This content was written and submitted by the supplier. It has only been modified to comply with this publication's space and style.
Morrison Container Handling Solutions celebrated its recently completed 100,000 square foot building expansion by hosting a ribbon cutting ceremony on September 16th. The company celebrated the support of its local community while commemorating this significant investment in the Chicago Southland.
When Morrison moved from its location in South Holland to Glenwood in 1995, founder Nick Wilson purchased this 22,000 square foot facility. From there, under the leadership of Nick and CEO Nancy Wilson, the company has tripled in size in the last 10 years and needed more space. After purchasing two other buildings on the same street, there still wasn't enough to house the growing workforce of over 110 employees.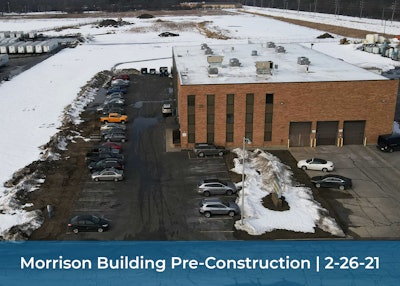 "In 2020 we took on a project for Thermo Fisher Scientific to design, manufacture, and integrate 31 production lines to sort, fill, cap, and label COVID-19 test kits," Nancy Wilson said. "Thankfully, the Village of Glenwood helped us secure more rental space quickly, but operating in four buildings wasn't a long-term solution. It was clear we needed to make a significant expansion, so with the help of Cook County and the Village, we took on this 80,000 square foot expansion. Glenwood is very business friendly, and we are happy we were able to find a solution to improve our capacity for our customers and continue with our record growth."
Several community leaders attended the event to show support, including U.S. Congresswoman Robin Kelly, Cook County Board President Toni Preckwinkle, Cook County Commissioner Donna Miller, Glenwood Village Mayor Ron Gardiner, Purdue Northwest Chancellor Tom Keon, PMMI President Jim Pittas, and OAI Executive Director Mollie Dowling, along with additional government officials and esteemed community professionals.
"We are proud in Cook County to call Morrison a partner, a community anchor, and a leader in the Southland," Preckwinkle said at the ceremony. "This investment in the company's success serves as a symbol of the strength of the Southland, which is a center for manufacturing in our county."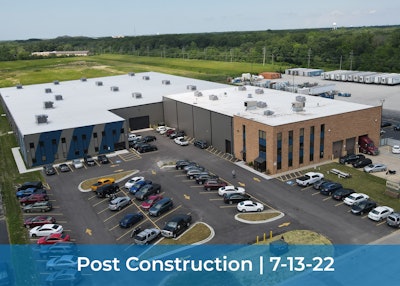 This new facility is a testament to the power of connecting communities. Through partnerships with Cook County, the Village of Glenwood, PMMI, OAI, Purdue Northwest, the Calumet Manufacturing Industry Sector Partnership, and Southland Development Authority, Morrison has been given an opportunity to flourish and give back to the local community.
"Through the many partnerships we are thankful to be part of, our business has been able to thrive and provide more opportunity to our employees," Nancy Wilson said. "Community and education are in our DNA. Nick played in integral role in developing the first four-year degree mechatronics program to Purdue Northwest and has only extended the reach through partnerships with PMMI, which is only one of the many examples of how Morrison strives to connect groups to bring growth to the packaging industry and Chicago Southland."
With PMMI, many employees serve on committees to advance packaging. Nancy Wilson is a board member while also serving as Chair of their Future Workforce committee, dedicated to training and educating future leaders on opportunities in packaging and bridging the skills gap for skilled manufacturing jobs. All of this and more is just a sample of how invested Morrison has been in pushing the industry and community forward.
As Nancy Wilson stated, "magic happens when you connect your communities." An example given was Morrison connecting OAI, Purdue Northwest, CMISP, and PMMI to create a field service apprenticeship program that filled open roles and provided opportunities for advancement to others who might not have received it otherwise.
"It's really exciting to see where we've been, where we're going, and think of what is to come," Nick Wilson said. "This expansion is a testament to our people and what they've helped us grow to over 51 years. Our new space starts another exciting new time at Morrison, and I can't wait to see what our team does with it."
Morrison is proud to be a manufacturing operation in Glenwood and feels a strong responsibility to this significant multi-million-dollar investment in Glenwood and Chicago's Southland community. This expansion enables the company to bring more jobs to the area, as well as increased capacity to handle its growing business, all while providing more opportunity to the local area.
"As we continue to grow with this new facility, we are able to build a lot more machinery in our facility with those new product lines," said Allison Wagner, Morrison business development manager. "We are looking to specifically add a lot of engineers, assembly technicians, and then we are growing that business development side as well, so there's people that we're adding into that role. We're hoping over the next few years to bring 10 to 20 new jobs to this facility."
Nancy Wilson added: "We've always been proud of our people and our young team of leaders, so it'll be fun to see what we can do with this space. Seeing everyone back in one building is a full-circle moment, and I love being able to walk the floor and see our whole team working together on different projects and thinking of what's next for Morrison's next 50 years."
Companies in this article
Videos from Morrison Container Handling Solutions