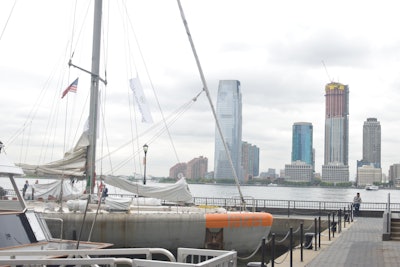 A collaboration amongst business leaders from major brands as well as top experts in scientific research participated in Challenge 2018: The Summit for a Sustainable Future, in late September in lower Manhattan. The summit was designed to shed light on the growing issue of ocean pollution and to address how new sustainable packaging options made from paper can help reduce plastic waste.
The oceanographic researchers from the Tara Expeditions Foundation, which sailed their expedition schooner into the New York Harbor for the event, presented evidence showing that the real threat of ocean pollution is not from large floating islands of plastic, but from tiny micro-plastics that saturate our seas like clouds of confetti.Although much smallerthan grains of rice, these micro-particles interact with marine organisms and represent a potential danger for the entire marine food chain—including what ends up on our plates.
"Each day, our ocean is being ravaged by tremendous amounts of waste being carelessly dumped or washed into our waterways," said Romain Troublé, Executive Director of Tara Expeditions Foundation, who has been coordinating the oceanic research voyages since 2004. "In sharing our discoveries with a global audience, we hope to inspire others to participate in sustainable business practices for our future generations. The problem is on land—we must turn off the tap."
Petra Einarsson, President and CEO, of BillerudKorsnäs, which hosted the event, shared insights on the company's commitment to sustainability, and unveiled new packaging innovations and solutions. "Our team, with assistance from our partners at Tara, has been able to utilize research and innovation to take our packaging to an entirely new calibre," she said. "We're able to provide solutions to one of the world's most urgent problems at a time where many feel they are powerless."
Summit attendees got to see and hear about the paper bottle for carbonated beverages such as beer, soft drinks, and water. In addition, BillerudKorsnäs debuted the D-Sack, a paper cement sack that is never opened but instead, the bag and contents are tossed into cement mixers, like detergent pods tossed into washing machines. This innovation essentially eliminates packaging waste and litter and minimizes handling time while creating a cleaner and safer workplace, says the company.
BillerudKorsnäs also discussed their newest product still in development—a battery made of paper that is designed to power smart packaging and other applications. The paper battery opens multiple possibilities for packaging that is both smart and more sustainable.
The summit also showcased keynote speakers across diverse industries, all whom had news to share about how sustainability initiatives are playing a key role in their company's growth. Danielle Azoulay, the Head of CSR & Sustainability for L'Oréal USA, gave an inside look on L'Oréal's sustainability initiatives for 2020, Sharing Beauty with All. She also touched on the crucial role corporations play in supporting the wellbeing of our planet.
Jamil Ahmad, Director of the United Nations Environment Program in New York, also delivered insight on the United Nation's sustainable development goals, including the framework, development, and next steps forward. As the Head of the Intergovernmental Affairs, Ahmad leads work on sustainable development and the environment in support of the organization's policies and program.
Nina Goodrich, the Director of the Sustainable Packaging Coalition and Executive Eirector of GreenBlue, presented on the need for more sustainable packaging so consumers can make more responsible purchasing decisions at the shelf. Because, she said, every piece of waste, no matter how small or large, impacts the health of our environment.
Companies in this article