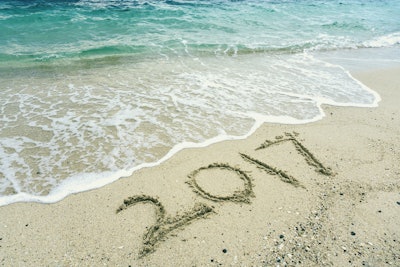 One thing that can be said about the Top 10 GreenerPackage.com articles of 2017 is that no one thing can be said. This year's list comprises a mashup of themes. Readers were engaged in articles that covered a multitude of sustainable packaging topics, including biopolymers, "beach plastic," compostable packaging, recycling, waste reduction, and corporate strategies. At the same time, wider market trends caught their attention: coffee capsules, meal, kits, and—one of the most popular packaging topics of the year—marijuana.

10. Pre-tapped coconuts at Whole Foods are a #gamechanger
Whole Foods Markets introduces Coco Vinny's Coco Taps pre-tapped young coconuts at 56 of its stores, providing consumers a simple and convenient way to enjoy fresh coconut water, without excessive packaging.
San Francisco Bay Coffee Co. unveils its No Waste OneCup coffee capsule packaging, comprising a compostable pod, a compostable mother bag, and a recyclable carton.

8. L'Oréal USA reports on sustainability goals
Company reports advancements in the areas of reduced carbon emissions, less waste and water usage, and improved packaging, among other successes.
7. Compostable film wraps snack bars
A compostable film wrapper for new cold-pressed fruit and nut bars from Shanvalley Innovative Food Company of Ireland helps the company expand on its brand promise, 'Eat Right – Live Right.'
6. PepsiCo collaborates on bio-based compostable film
PepsiCo collaborates with biotechnology company to develop biodegradable, compostable film resins for its flexible packaging.
5. Target unveils five new sustainable packaging goals
Among them, the elimination of EPS for its owned brand product packaging, adding How2Recycle labels on its more of its packaging, and creating end-use markets for recycled materials.
4. Hello green! Meal kit box is eco-friendly
HelloFresh introduces an insulated box for its meal kits that uses 100% recycled fiber, is 100% recyclable, and is easy for operators to assemble and easy for customers to disassemble.
3. P&G unveils first recyclable shampoo bottle made with 'beach plastic'
Beginning this summer, P&G will offer its Head & Shoulders shampoo in a limited-edition recyclable bottle made in part from material collected from plastic waste found on beaches.
2. Top 10 sustainable packaging stories of 2016
See what visitors to GreenerPackage.com were reading about last year in the annual Top 10 list of most-read articles on the site.
1. 'Ganja-preneur' puts organic pot in a recyclable tin
Honest Marijuana extends its commitment to the environment to its packaging, a tin can that is recyclable and reusable, and preserves the purity and freshness of the cannabis product.