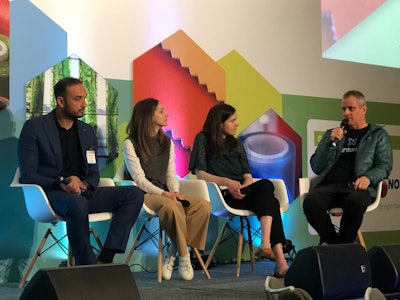 Rethinking materials to eliminate plastic waste and create a circular economy requires patience, collaboration, passion, and—for emerging technologies—financing. That's according to Harriet Lamb, chief executive officer of WRAP (The Waste and Resources Action Programme), a climate-action NGO based in the U.K., who provided the welcome address at last week's conference in London, aptly titled the Rethinking Materials Summit.
The two-day event brought together more than 350 attendees (live and virtual) from 34 countries to showcase and connect pioneering companies that are reimagining how materials in consumer products and packaging are produced, consumed, repurposed, and financed.
One interesting feature of the event specifically designed to connect early-stage tech startups with potential investors was a series of three Technology Showcase sessions, each one featuring four companies. Session subject areas included, "Material Innovation Delivering on Performance and Functionality," "Innovation Supporting the Decarbonization and Circularity of Materials," and "Digital Solutions Supporting Efficiencies in Materials."
What follows are overviews of some of the companies featured.
Kelpi: Described by company co-founder and CEO Neil Morris as a material innovation company, Kelpi has developed a compostable bioplastic material from seaweed that can replace single-use plastics for food, personal care, and cosmetics packaging. Kelpi uses only farmed seaweed, due to the fact, Morris explained, that there is still a question of impact on marine environments when seaweed is taken from the ocean. The company is working with East Asian seaweed farmers, but is moving toward farming in the U.K. and Canada. Currently, Morris shared that the company is hindered in its efforts to scale up the technology, as it's waiting for food-contact approval.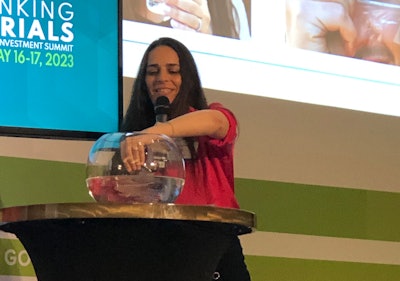 Solutum: An Israel-based start-up, Solutum has a vision to eliminate plastic waste for good. That's according to Sharon Barak, co-founder and chief executive officer of the company, who provided a show-and-tell at the conference, demonstrating how bioplastics created with Solutum's proprietary compound allows the flexible film to dissolve in water. Solutum's compound leverages natural biochemical processes to dissolve into natural biomass, including CO2 and H2O, in water at ambient temperatures. The company controls the compound's temperature sensitivity to water through unique mechanisms, offering a range of predetermined temperature and dissolving times, allowing it to adapt to a broader range of plastic applications and substitutions. The material can run in existing equipment and is recyclable without affecting waste streams.
Again: Based in the U.K., Again offers reuse solutions for Fast Moving Consumer Goods (FMCG) companies, in particular, beverage brands using glass packaging. According to Brian Matuszewski, chief partnerships officer of Again, who presented at the summit, the company collects, sorts, cleans, and returns packaging to brands, with the capability to process 0.5 million packs/month through robotics. The company operates a network of proprietary CleanCells, co-located at logistics hubs, that recondition packages to the highest quality standards. Each package is tagged, which enables Again to see how many loops a package has gone through, taking containers out of circulation when they've reached their maximum reuse life. The company pays collection partners and retailers (operating Deposit Return Schemes) for every unit of packaging they receive. Again is currently working with Diageo, Coca-Cola, and AB InBev.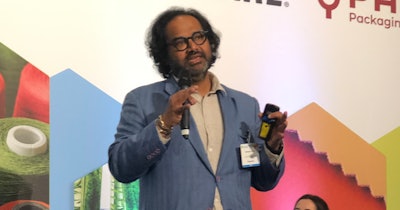 Greyparrot: Designed for use inside Materials Recovery Facilities (MRFs), Plastic Recovery Facilities (PRFs), and reprocessing plants, but benefitting brands as well, Greyparrot's AI Waste Recognition System provides real-time analytics on waste flows in each part of the sorting process. "What you see as waste, we see as a resource," shared company co-founder Ambarish Mitra. "We want to convert every piece of waste into a resource. Fifty-five percent of plastic waste in the world is produced by people in this room. Once we throw things in a bin as consumers, then what happens? Up to $12 billion worth of plastics are lost to incineration and landfill."
According to Mitra, Greyparrot's AI-based software can have a tremendous impact on auditing what's going on in the MRF/PRF/reprocessor facility, allowing them to understand the financial impact of their sorting processes. The plug-and-play software, he shared, is currently being used at 50-plus waste facilities around the world, which are deploying it to optimize processes and ensure quality recyclates reenter the system. Greyparrot is also conducting pilots with brands whereby they are using the waste data to trial packaging before it's launched, allowing them to test run their packaging at MRFs to learn how their materials will actually flow through the system.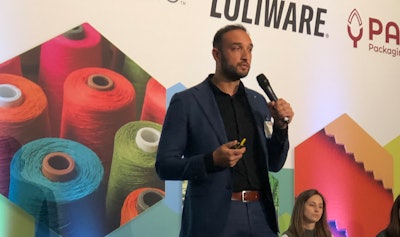 Circularise: Circularise, represented by founder Mesbah Sabur at the summit, offers a software platform that provides Digital Product Passports for end-to-end traceability and secure data exchange for industrial supply chains. "We are seeing a transition to more sustainable materials," said Sabur. "We need more information attached to products. Our software brings a digital backbone to products by combining different technologies." Customers include both the raw materials suppliers, as well as the brand owners, both of whom are now being required to provide information to their stakeholders on where materials is being sourced and claimed.
The software also includes a MassBalancer component, that allows companies to manage ISCC Plus mass balance bookkeeping for all of their sites, automate quarterly reports, and gain insights from a central location.
​Materiom: Offering the largest database of its kind, Materiom has collected 375,000 biomaterial recipes that are available to all. The open-data, AI-driven database was developed to provide material producers, researchers, and consumer brands with foundational recipes they can work with, adjusting compositions and introducing novel additives, to create regenerative materials. "We envision a world where packaging is made to be plant food," said Materiom founder/co-CEO Liz Corbin. "There is already a huge group of startups trying to address problems through biomaterials that can dissolve in water or compost. We believe in this sector, we believe it can address ambitious goals. Given all of its potential, the sector needs to scale up in terms of volume and in the number of solutions available."
Other startups invited to share their stories included the following:
· Oco: A Carbon Upcycling Company creating advanced additives derived from graphite and magnesium sulfite.
· Ourobio: Is using whey from cheese and yogurt production to create biodegradable, bioplastic additives.
· Reath: Provides software to help companies launch and scale reusable packaging systems.
· Reselo: A biomaterials company producing rubber from birch and birchbark.
· Tandem Repeat: Offers Squitex protein fiber that mimics squid ring teeth, used for the textiles industry.
· Xinterra: Offers materials development as a service, creating new materials for sustainable products and applications.