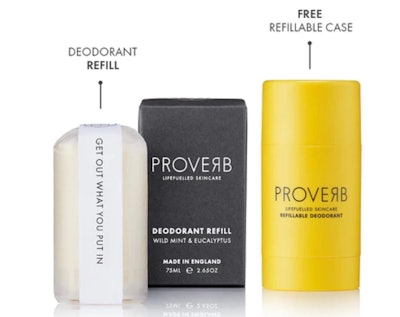 A number of brands today are developing new innovations in refillable/reusable packaging options, primarily for sustainability reasons—among them, a reduction in the use of plastic. Therefore, when U.K. startup Proverb began developing a new Refill-at-home packaging system for deodorant, it struggled with the decision on whether to use plastic. Its conundrum and resulting comprehensive research into alternative packaging materials—among them, paper, aluminum, glass, bioplastics, and recycled plastic—points to how complex implementing a more sustainable packaging solution can be.
Proverb was founded by husband and wife Kirstie and Luke Sherriff, who developed the mission of the company from the perspective of the product first. Kirstie is a skincare expert who co-founded a beauty school and developed a line of spa products, Pinks Boutique, with Luke. Luke was a professional rugby player. In 2005, Luke was introduced to the concept of endocrine disruptors within beauty products, including the use of aluminum in deodorants, which blocks sweat ducts and reduces perspiration. According to the Sherriffs this opened the "Pandora's box" of understanding beauty ingredients and caused them to embark upon a career producing skincare.
In 2019, Proverb crowd-funded its aluminum-free, vegan-friendly deodorant line in a refillable/reusable package, but put the brakes on its official launch when COVID-19 hit, turning its attention to the production of hand sanitizer. As a result, the official launch of the product was in spring 2022. Says Kirstie Sherriff, "This was the first [refillable/reusable deodorant] to market in the U.K., whatever our competitors say!"
The reusable element of the Proverb deodorant system is a sleek and stylish high-density polyethylene case in a choice of grey, yellow, or white. Says Proverb, "They are smooth to the touch, never dent, and are happy rolling around in your gym and travel bag. They are suitable to put in the dishwasher and on average will save you adding eight to 12 deodorant cases a year to plastic landfill."
---
---
The elephant in the room, however, is this eco-conscious company's use of plastic. "We have made natural and organic skincare since 2007, and the right packaging choice for this is a huge part," says Kirstie Sherriff. "We are well practiced at it and have used many [material] options in our ranges… . Clearly, we started this journey believing the case would never be plastic, we went straight to carboard tubes. However, we are also academics and research everything to the hilt, and if you are really willing to take the time and learn, then it is never simple. All the marketing of 'deodorant cases made entirely from plants' or aluminum being better for the world is frankly just that—marketing."
In researching paper as a packaging option, Proverb found that paperboard deodorant tubes are hard for the consumer to use—"a bit like putting a Calippo ice lolly [a frozen dessert in a push-up tube] under your armpit, the deodorant just keeps falling back down," says Kirstie Sherriff. In addition, to achieve the right functionality, the packaging would require layers of paperboard and film, which would end up making the tube non-recyclable.
Having used aluminum for their Pinks Boutique spa products in the brand's early days, the Sherriffs say they had seen how packaging made from the material can become dented and scratched, unless a plastic liner is added, which makes the package difficult to recycle. Kirstie Sherriff adds that research on the impact caused by mining aluminum brings into question whether it's actually better for the planet than plastic.
Glass, Kirstie Sherriff says, also wasn't an option for Proverb. "Living a 'get out what you put in' ethos likely means travel, an active life, and adventure," she says. "Carrying glass in your bag isn't ideal, nor is it when you drop it on your tiled bathroom floor."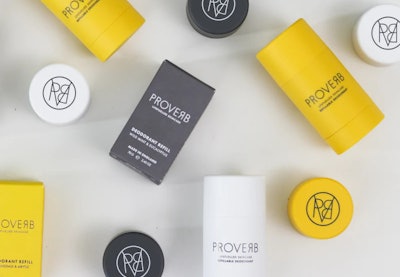 In looking for a "better plastic" option for its product, Proverb also examined bioplastics, but it concluded that plastic made from sugarcane isn't the real solution to the world's plastic crisis, and its impact on the planet is not any better than that of petroleum-based plastic. "Farming sugarcane in Brazil relies on large plantations, using lots of pesticides and fertilizers that negatively impact soil and biodiversity, as well as significant amounts of water," says Kirstie Sherriff. "Large plantations displace local farmers onto more marginal and vulnerable land. Not to mention, everything then has a carbon footprint starting in Brazil. … We weren't willing to take the 'made with sugarcane plants' band-aid to market to our customers."
Finally, a look at post-consumer recycled materials revealed that wasn't an option either. To start with, Proverb could only use from 2% to 30% rHDPE in their package, as using 100% would mean the case wouldn't be durable enough. The company also wouldn't be able to produce their case in white, given PCR is multi-plastics mix. And, although they were willing to live with that and while they were able to find sources of PCR pellets, the challenge became finding a bottle producer willing to pour the material into their multimillion-dollar machines. Says Kirstie Sherriff, "We get that and are still looking for someone who will. If you know them, please send them our way."
Thus, they settled on a virgin HDPE case—a stock package from a proprietary supplier. Proverb decided to go with a stock package rather than a custom one because the Sherriffs weren't ready to invest in a custom mold until they knew the market was ready for the product. They also wanted to prove that there was no reason other brands couldn't produce a refillable option. Lastly, they wanted to wait until a genuine ocean plastic alternative became available.
But the stock package has proven an excellent choice, with consumers who have tried Proverb as well as competitive brands sharing that Proverb's case is much more robust than those of the competition. "The refill never falls out due to an internal spindle-and-wheel mechanism, and it is super easy to fill," says Kirstie Sherriff. "Nothing breaks, nothing wears out. So, while we have now known for a while that the market is absolutely ready and are loving refillable deodorant, we aren't inclined to change the case."
The paper that covers the refill sticks was specified by Kirstie Sherriff, who spent a lot of time researching how the company could wrap the naked deodorant and not have it dry up or have the oils in the stick leak through the packaging. The solution, a recyclable paper with the needed barrier, was inspired by a material used in the food industry.
The sticks themselves are molded with a PET wheel—described as looking like a Trivial Pursuit wedge wheel—integrated into the bottom of the stick. To load the refill into the case, the consumer removes the paper wrap along with a hemp- and linen-based sticker and places the refill on the top of the open case. The spindle inside the case goes into the center of the wheel located on the bottom of the refill. The consumer then turns the base of the case to the left, and the refill retreats down into the case.
---
---
Looking for the most sustainable outcome for every part of the product, Proverb also offers consumers the option to receive a prepaid bag from the company in which they can send back the PET wheels from the refills after use. Proverb loops these materials back into the production cycle, creating a circular system.
According to Kirstie Sherriff, Proverb offers the largest deodorant refill on the market at 70 g, compared with the 40-g refills available from other brands. This means that on average, its sticks last three months. The deodorants come in three scents plus an unscented option, in different strengths, and with or without sodium bicarbonate/baking soda.
Proverb's products, which now include a line of body wash sold in a reusable bottle, with refills in a flexible pouch, are available on its website, as well as through a number of its spa partners. As with the other D2C retailers in the refillable/reusable space, the deodorant case and refill packs are priced according to whether the consumer opts for a subscription or buys a single product.