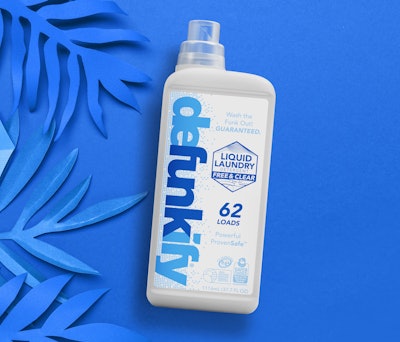 Despite its playful name, household cleaning products company Defunkify is quite serious when it comes to "defunking" consumers' laundry, carpets, kitchens, and bathrooms—basically anywhere in the home that's funky—in the most effective and sustainable way possible. The Eugene, Ore.-based company was founded in 2019 to eliminate the gap between "green" products that don't clean very well and hard-working brands that contain toxic chemicals. In the process, it sought to redefine what's possible in terms of safety and sustainability.
For its laundry detergents, stain and odor remover sprays, and all-purpose cleaner, Defunkify uses bio-based ingredients that the company's Chief Sustainability Officer, Eddie Rosenberg, says offer "phenomenal cleaning properties." He adds that the company's "back-to-square-one approach" has allowed it to develop the most effective, safest products on the market.
---
---
But Defunkify's mission doesn't end with its products; the environmental friendliness of its packaging is equally important. Explains Rosenberg, "Sustainable packaging and business operations have always been a core pillar in Defunkify's DNA, and every decision we make is rooted in science and empathy to foster a better, cleaner future. Why? Because we don't want future generations to live with more microplastic trash and toxins than fish and clean water. With that in mind, minimizing and eliminating plastic packaging has been a core priority since we launched our first liquid laundry detergents in 2020."
Currently Defunkify's packaging for its liquid laundry detergent products consists of high-density polyethylene bottles made with 25% post-consumer recycled material. Spray products are packaged in PE bottles with 25% PCR content. For its powder formulas, the company uses recyclable paper cartons that are Forest Stewardship Council (FSC)-certified, with a compostable pouch inside made from material supplied by TIPA that is certified to be industrially compostable within 180 days. Says Rosenberg, "We also concentrate our formulas to work better with less and never use fillers, so we can use the smallest and lightest bottles and boxes."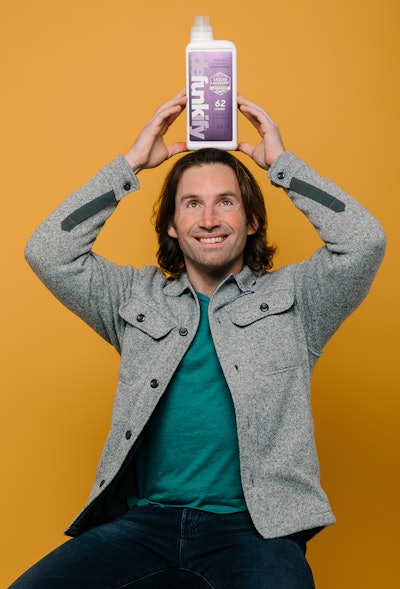 In the near future, Rosenberg shares that the company will be unveiling a patent-pending packaging system that eliminates all plastic trash from the cleaning and personal care industries. In the meantime, to offset its plastic footprint, Defunkify has partnered with plastic action platform rePurpose Global to help fund the removal of plastic waste headed into marine ecosystems. For every product purchased, a percentage of the sales are directed to this effort. In 2021, Defunkify removed 41,571 pounds of plastic waste in West Java, Indonesia, that would otherwise have been burned, sent to landfills, or leaked into the ocean and waterways.
Says Richard Geiger, CEO of Defunkify, "We are proud to have funded the recovery of over 41,000 pounds of plastic from nature, accounting for everything that directly touches the products we sell—every bottle, every cap, every spray nozzle, every bag, and even the tape—and we plan to take this one step further in 2022."
The partnership with rePurpose also helps to empower marginalized workers to better tackle plastic pollution in their communities. According to the Defunkify, today's informal waste workers earn less than $5 a day, work in precarious conditions, and face severe discrimination. The partnership creates an additional income stream by attaching value to low-value plastics, while supporting Waste4Change, a recycling social enterprise that holistically lifts up waste workers through occupational safety, health insurance, and skills training.
As a result of Defunkify's offset efforts, every one of its products is certified Plastic Neutral by rePurpose. "In other words, every bottle of Defunkify prevents another bottle of plastic waste from polluting our oceans and rivers," says Rosenberg. This designation has also contributed to the company being named Carbon Neutral Certified for the last three years.