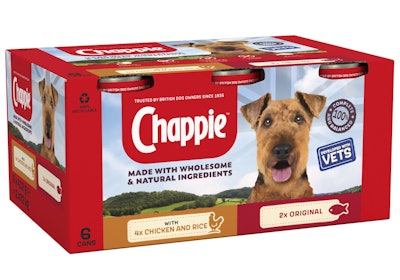 With its recent switch from shrink film to paperboard for mixed-multipack cans of four of its pet food brands, Mars Petcare UK estimates it will eliminate an elephantine amount of plastic—30 elephants' worth, in fact. In September, the company switched to cartons for its multipacks of Pedigree and Chappie wet dog food and for its Whiskas and Kitekat wet cat foods, making the packaging for these products 100% recyclable. The move is expected to remove 180 metric tons, or approximately 198 U.S. tons, of plastic film from the environment annually.
"Prior to the elimination of shrink film on the mixed-multipack cans of Pedigree, Whiskas, Chappie, and Kitekat in the U.K., Mars Petcare UK was using a monolayer structure for the film packaging," explains Kim Smet, Interim General Manager at Mars Petcare UK. "While this was a recycle-ready material, it is not yet widely recycled in the U.K. The new packaging is now fully recyclable, removing 15 million individual pieces of plastic annually. In addition to this, the updated packaging has contributed to a reduction of energy usage on-site."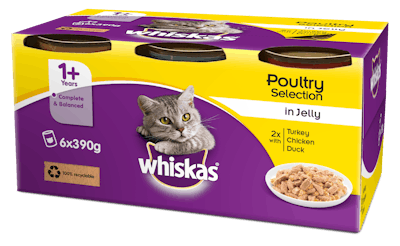 Mars Petcare UK's use of paperboard for the multipacks will contribute to its sustainable packaging goals of using 100% reusable, recyclable, or compostable packaging and reduce its use of virgin plastic by 25% by 2025. "Following a significant investment into our U.K. Melton Mowbray [Leicestershire, England] pet food site, the packaging changes we have made have helped us to take a step closer toward achieving our target of cutting our virgin plastic use by 25%," says Smet. "Moreover, the new paperboard packaging has resulted in multiple sustainability-focused benefits as opposed to the previous shrink-film packaging."
The switch to paperboard is just one of the initiatives undertaken by Mars Petcare UK in 2021 to meet sustainable packaging goals. In July, it launched a recycling program with Pets at Home that provides for dedicated in-store recycling points for pet food packaging across 40 U.K. stores. Also this year, Mars reduced the material in the flexible packaging for its Pedigree Schmackos dog treats by 12% and redesigned the flexible pouches for its 60-g Dreamies cat snacks to be thinner, which it said led to a combined 27.6 metric tons, or more than 30 U.S. tons, of virgin plastic saved in the U.K.
---
---
"At Mars Petcare, we're on a mission to future-proof the growing pet population and industry," says Smet. "We know that over the past year alone, the U.K.'s pet population has skyrocketed to an all-time high, tipping 20 million dogs and cats [per a 2020 annual survey from The People's Dispensary for Sick Animals (PDSA)]—nearly a third of the size of the U.K. human population, so as an industry, our sustainability efforts must reflect this and improve, at speed, to create the world we want tomorrow."