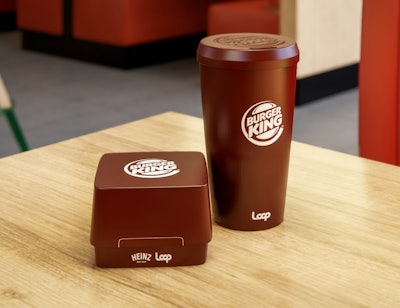 Beginning in 2021, quick-service restaurants Burger King in the U.S. and Japan and Tim Hortons in Canada will pilot reusable, closed-loop container programs through TerraCycle's circular packaging platform, Loop, to help in their efforts to reduce packaging waste. The programs will give guests the option of paying a deposit for reusable and returnable cups or food containers with their order that will be refunded when the packaging is returned.
For Burger King, the partnership is being launched as part of its company-wide sustainability framework. Says Matthew Banton, Head of Innovation and Sustainability, Burger King Global, "As part of our Restaurant Brands for Good plan, we're investing in the development of sustainable packaging solutions that will help push the foodservice industry forward in reducing packaging waste. The Loop system gives us the confidence in a reusable solution that meets our high safety standards, while also offering convenience for our guests on the go."
---
See it Live at PACK EXPO Connects Nov. 9-13: Want to learn more about innovations in packaging materials and containers, including new monolayer films and biopolymers for sustainable applications? Join us at PACK EXPO Connects to hear from a range of suppliers. Preview the Showroom Here.
---
Hope Bagozzi, Chief Marketing Officer of Tim Hortons, echoes Banton's sentiments on the importance of the Loop platform in reducing packaging waste. "Throughout Waste Reduction Week, we've been making announcements about the many ways we're working to use more recycled materials, make our products more recyclable, and reduce waste," she says. "Yesterday's announcement on the end of double-cupping will eliminate the use of 200 million cups over the next year. Adding a reusable option to our sustainability packaging mix sets us apart in our journey to reduce waste."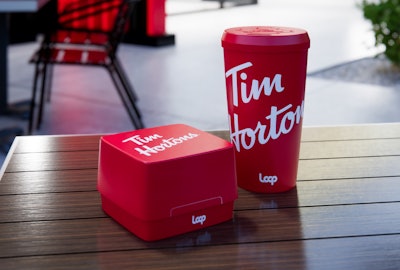 Last February, Tim Hortons announced plans to give away nearly 2 million reusable cups as part of a 10-year commitment to change consumer perceptions and habits toward using reusable cups. That plan was paused due to the pandemic but will be relaunched when possible.
---
See: Global CPGs Embrace Transformative Loop Circular Shopping Platform
---
Giving consumers' confidence in the safety of the reusable containers that are a part of the Loop returnable container program, Tom Szaky, CEO of TerraCycle and Loop, shares that Loop's cleaning systems have been created to sanitize food containers and cups, meaning each will be hygienically cleaned and safe before each use. He adds, "During COVID, we have seen that consumers have relied more on single-use cups and containers due to health restrictions. This initiative by Tim Hortons signals that getting back to adopting reusable containers will be important when those restrictions are lifted."
According to Burger King, the partnership with Loop aligns with its restaurants' rigorous safety procedures around cleanliness and hygiene, all which have become even more pressing during the current pandemic.
---
See: How Safe is Reusable Packaging During COVID-19?

---
Beginning next year, select Burger King restaurants in New York City, Portland, and Tokyo will be among the first to implement the Loop model, with more cities expected to be added in the coming months. Participating restaurants will feature a collection system, in which guests can return the packaging for cleaning by Loop and for subsequent use by Burger King restaurants.
Tim Hortons will also begin their pilot next year, at select Toronto restaurants. According to the brand, it's anticipated that over time, the Loop platform will have a growing number of drop-off locations—both at its restaurants and elsewhere—that will make the program even more convenient for guests to participate in.
Companies in this article