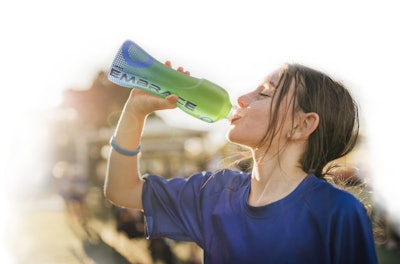 Packaging has long been labeled the villain by many consumers who see it merely as waste. Today that sentiment has reached a fever pitch as consumers are inundated with images of beaches and waterways overflowing with discarded packaging. The most visible culprit: single-use plastic packaging. As a result, every major Consumer Packaged Goods company has made commitments around the use of recycled-content and recyclable plastic packaging. At The Packaging Conference, a number of packaging materials and equipment companies presented technology innovations that have been designed to help CPGs reach these goals, in particular with PET.
One was Eastman Chemical. Representing the company at the conference, Glen Goldman, Marketing Director, Specialty Plastics, provided details on three new shrink-film label materials from the company that increase the recyclability of shrink sleeve-labeled PET packaging.
Noted Goldman, as CPGs face increasing competition, they are turning to packaging to differentiate their products. One format that can provide that shelf impact is a shaped container decorated with a shrink sleeve. While the container may be recyclable, its label is not. With many MRFs lacking the infrastructure to separate the two, CPGs have had to make a tradeoff between packaging performance and sustainability.
"There is an issue with how shrink labels interact with recycling processes and standards, such as sorting and sink/float tank processes," he said. "There are tensions between what CPGs are trying to accomplish with their brands and the recycling process. The challenge was to develop one solution that works in all these environments."
Rather than one solution, Eastman developed three—Eastman Embrace Encore™ Copolyester, Eastman Embrace Float™ Copolyester, and Sun Chemical SunLam™ De-seaming Adhesive—each one geared toward a different recycling process. Encore resin forms a versatile, clear shrink label that can be recycled with PET; Embrace Float resin forms an opaque, low-density shrink label that floats in water and can be separated from PET in the sink/float process; and SunLam replaces a traditional solvent seam, enabling label removal in the wet recycling process, when used with labels made with Embrace resins.
Said Goldman, "They all have tradeoffs related to them, but they do allow everyone in the value chain to achieve their objectives."
At the time of the conference, just the SunLam product was available. Encore and Embrace were launched in April.
To address the issue of recycling traditionally non-recyclable additive-enhanced barrier bottles, KHS Corpoplast GmbH introduced its FreshSafe PET coating system. As Philipp Langhammer, Product Manager Barrier Technology, for the company, explained, the FreshSafe PET coating (formerly Plasmax) comprises an ultra-thin layer of SiOx, or glass, on the inside of the bottle.
"This results in a bottle that is as light as PET and as good as glass," he explained. "The bottle is 100-percent bottle-to-bottle recyclable and offers a long shelf life, freshness, and product quality. The coating is absolutely transparent. It provides perfect protection, and it prevents migration and permeation."
For those who find the idea of a layer of glass inside their beverage bottle a bit unsettling, Langhammer assured the audience that although glass is touching the product inside the bottle, there are no particles of glass in the PET bottle. "It is chemically bonded to the PET," he said. "It is approved by the FPA for direct food contact as well as by other national food authorities."
A plastic/glass "hybrid," the bottle provides a significantly longer shelf life than plastic alone. For example, a 330-mL plastic bottle for juice provides a shelf life of three months, while one using FreshSafe PET has a six-month shelf life. A 500-mL bottle of beer goes from three weeks to 24 weeks; a 330-mL CSD is extended from nine weeks to 25 weeks; and a 750-mL bottle of wine goes from six months to <24.
The FreshSafe-PET coating system is available as a single machine with an output of up to 3,600 or 46,000 bottles/hr or as one of two block concepts. These include the InnoPET FreshSafe block, a stretch blow molding/coating unit that operates at speeds to 40,000 bottles/hr, and the InnoPET FreshSafe TriBlock, a stretch blow molding/coating/filling unit that outputs up to 46,000 bottles/hr.
Also on the conference agenda was Morris De Marchi, VP Operations, SIPA S.p.A., who shared news on the company's Xtreme Renew, an integrated system for the production of food-grade preforms using 100% recycled PET from washed flakes. As he explained, Xtreme Renew combines two systems: the Vacurema from Erema, which converts washed flakes into rPET pellets, and the Xtreme from SIPA, a rotary injection-compression molding system that produces preforms that are 8% lighter than preforms produced by conventional injection molding.
"The system was created to fit the circular economy," said De Marchi. "The Xtreme offers many features and advantages. It treats materials more gently, it is easy to use—you only need one operator—and it's flexible, because you can make two preforms at one time." Also adding flexibility, mold changeover takes just one minute.
As for the Vacurema, De Marchi says it meets the challenges associated with recycled PET, such as food safety, a stable intrinsic viscosity (IV), color, and quality control. To produce food-grade rPET resin and an IV value comparable to that of virgin materials, the Vacurema pretreats the PET flakes using high temperatures and vacuum to remove moisture and migration substances. This is in contrast to traditional systems, which decontaminate the rPET after it's in pellet form. The quality of the recycled material combined with the pretreatment process results in virgin PET-like clarity. To ensure quality, the machine is equipped with five optical cameras for a complete in-line check.
Also sharing information on another closed-loop solution for PET packaging was Robert Daviduk, Co-CEO of rPlanet Earth, who talked about how the company is converting PET packaging waste into finished, food-grade rPET packaging with properties comparable to those made from virgin PET. Daviduk spoke at the 2018 conference, before the process was commercialized.
In October 2018, rPlanet Earth opened a 302,000-sq-ft facility in Vernon, CA—representing an investment of $100 million—that takes in baled bottles, clamshell containers, and other packaging waste from curbside collection; puts it through an extensive series of sorting and cleaning procedures; grinds it into flake and subjects it to rigorous wash and decontamination; raises the IV of the material in accordance with end-use requirements; and processes it into food-grade sheet, thermoformed containers, and injection-molded preforms for bottles. The new rPlanet Earth plant has an annual capacity of 80 million lb.
All four of the new technologies offer exciting tools for brand owners to make headway with their sustainable packaging commitments. But there is one fly in the ointment only marginally addressed by the speakers: Where is all of the recycled PET going to come from? The 2017 recycling rate for PET in North America was 29.2%—hardly sufficient to feed the needs of all the major CPGs that plan to significantly increase their use of the material in their packaging.
According to De Marchi, SIPA is ahead of schedule in offering it Xtreme Renew solution to North American customers, who may struggle with obtaining enough PET waste. "It will be a challenge for our customers to add the recycling stream," he admitted. "But we believe this is where our customers are going to have to go."
Read full coverage on the conference at "New markets, megatrends bring business opportunities"
Companies in this article