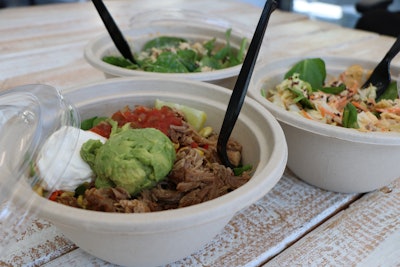 Nature's Table, a family-owned fast-casual restaurant focused on fresh and healthy dining, is partnering with compostable products company World Centric to introduce compostable bowls at its locations across the U.S. Aiming to eliminate the use of petroleum-based foam containers, Nature's Table plans to have World Centric's compostable bowls become a staple at most locations within the next two to three months. The initial launch will focus on compostable bowls made from sugarcane and wheat straw fiber, complemented by plant-based plastic lids.
"Since our founding in 1977, Nature's Table has been a pioneer in sensible eating," says Nature's Table Senior Vice President Bryan Buffalo. "We were focused on healthier food choices, even when it wasn't top of mind with our customers. Now that we have successfully tackled nutrition in our cafés, we want to put the same focus and effort into increasing our use of environmentally-conscious paper goods and lowering our carbon footprint."
In addition to introducing the new bowls and lids, Nature's Table plans to work with the World Centric team on other products in the near future. Each year, World Centric donates a minimum of 25% of its profits to grassroots community projects around the world. These projects focus on providing basic needs for local communities and the environment.
"World Centric has done a great job helping us improve our sustainability initiatives," says Buffalo. "We hope to achieve a 75-percent diversion rate of our waste into the compost waste stream, and this will require that we continue to innovate our foodservice packaging into even more plant-based products. I look forward to continuing our relationship with World Centric as they help us identify the best solutions to improve our offerings, while reducing our impact on the environment."
These new bowls are the latest move in Nature's Table's mission to reduce its carbon footprint, joining the company's compostable drink cups, napkins, and tray liners. The franchise's napkins, tray liners, and plastic bags are also made from recycled resources.
Companies in this article