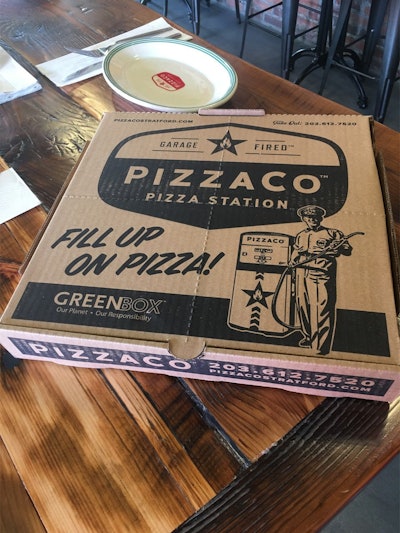 PizzaCo, Stratford, CT's vintage gas-station-turned-craft-pizza restaurant has partnered with GreenBox, makers of environmentally friendly pizza boxes—as seen on TV's Shark Tank.
GreenBox is a multifunctional pizza box with a lid that lid breaks into four sturdy plates, while the rest of the box becomes a compact storage unit for leftover pizza.

PizzaCo became the first pizza restaurant in Connecticut to begin using a custom version of the GreenBox. The compay has been committed to being environmentally responsible since its opening; it currently composts all its food waste.

Says Lexi Fanning of GreenBox, "We're happy that PizzaCo has joined us in thinking outside the box to make consumers' lives easier and bettering the environment, too."

GreenBox was invented by William Walsh, a Connecticut native, who came up with the idea while living in a fraternity house on a football scholarship. He cut up hundreds of pizza boxes before hitting upon the idea of making a utilitarian box with a top that could be converted into four disposable plates, while the bottom could be easily changed into a box for leftovers.

In January 2015, GreenBox appeared onthe reality TV show Shark Tank where a deal was made with "Shark" Kevin O'Leary, aka "Mr. Wonderful."
PizzaCo will be serving all take-out and delivery pizzas in their custom GreenBox.