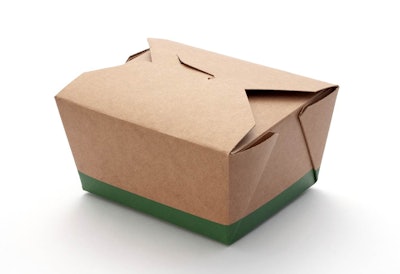 Whole Foods Market's Rocky Mountain Region is preparing to launch two sizes of paperboard deli containers with a new coating that replaces 100% polyethylene with one that combines PE and calcium carbonate, for a reduction in the use of plastics. Jim McConnell, store supplies and services specialist for the region, says that the use of Smart Planet Technologies' clear EarthCoating™ is an "in-the-meantime solution" that will reduce Whole Foods' use of PE while suppliers, including Smart Planet, work on developing a coating that can be certified compostable.
"What I really want is a compostable coating that can be third party-certified as such and third party-certified as non-GMO," McConnell says. "It would be a real game changer in the industry."
The Rocky Mountain Region, which includes five states (Colorado, Idaho, Kansas, New Mexico, and Utah) and 28 stores, offers consumers two types of containers for use with its salad bar and hot food selections: a compostable wood fiber-based clamshell, and two sizes of the Bio-Plus Earth recycled paperboard containers from Fold-Pak. The 100% recycled-content Bio-Plus Earth® containers currently use a PE coating to provide leak-resistance and a grease barrier.
At Whole Foods' request, Fold-Pak will provide the Bio-Plus Earth containers with Smart Planet's EC-40 coating, which contains up to 60% less polymer content by weight than 100% low-density PE coatings while providing superior barrier properties to moisture, oil, grease, and fatty acids.
McConnell says his suppliers were receptive to the idea of experimenting with the new coating, and are currently in the process of fine-tuning the new solution. He says the new containers are expected to be available in Whole Foods' Rocky Mountain Region stores within the next six weeks. Once implemented, the new containers will represent 1.5 million units/year.
While McConnell says his ultimate goal for the paperboard deli-food packaging is certified compostability, the EarthCoating containers are a step forward. "We are working with two companies, Smart Planet and Fold-Pak, that are on a path that aligns with our core values," he says. "Some people might call this a 'less bad' solution. I hate that terminology. I think it's a 'more good' solution.
"If we waited for the perfect solution, we would have to say 'no' to suppliers all the time. They need the research and development dollars, they need someone to buy their product, and it's an improvement over what was available previously. So we're on the right path, and if it can get us to a compostable coating that is certified non-GMO, then that will be the ideal solution."
Companies in this article