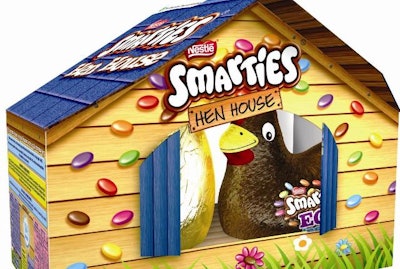 Nestlé UK & Ireland has replaced the 48 tonnes of rigid plastic used in its mug eggs with FSC-approved paperboard, meaning its entire Easter collection is now recyclable. Compostable film is also being used for the windows resulting in a 30% reduction in packaging across the mug egg range.
With Easter eggs creating 3,000 tonnes of UK waste each year, the manufacturer of Smarties, Kit Kat, and Aero Easter eggs has claimed that it has become the first major confectioner to remove plastic packaging from all its eggs – the culmination of a six-year process that has saved 726 tonnes of plastic waste going to landfill per year.
Nestlé Confectionary UK & Ireland managing director David Rennie said: "Nestlé carefully considers the environmental impact of packaging as an integral part of its product design. Since the early 1990s, we have been reducing the amount of packaging we use through our global source reduction programme – eliminating unnecessary packaging and reducing weight while ensuring product quality."
Since the project started in 2006, Nestlé said it had reduced the weight of its packaging for small and medium eggs by 30-50% and in 2009 it replaced non-recyclable plastic with recyclable paperboard across 80% of its range.
The reduction in non-recyclable packaging has also spread to its Christmas range with 95% of selection boxes now being made with recyclable material.

Commenting on Nestlé's work, Helen Bingham, campaign manager for Keep Britain Tidy, said: "Nestlé's achievement in becoming the first major confectioner to create 100% recyclable Easter egg packaging is a great step forward for the confectionery industry and we hope that other manufacturers follow their lead."