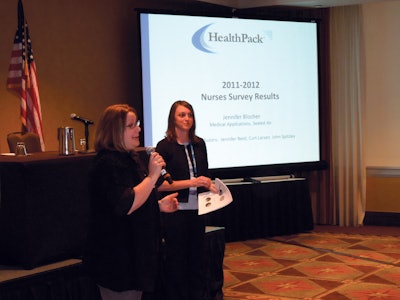 With members that include Baxter, BD, Cardinal Health, Covidien, Johnson&Johnson, as well as packaging suppliers and waste and energy management companies, the Healthcare Plastics Recycling Council (HPRC) is off and running in its role as a private technical coalition of peers "seeking to inspire and enable sustainable, cost-effective recycling solutions for plastic product and materials used in the delivery of healthcare," according to its Web site.
Even a 1% improvement in recycling plastic hospital waste from plastic medical devices and packaging could have a dramatic and positive environmental impact, noted Dan Penny, director of packaging engineering, Cardinal Health.
Penny spoke on behalf of HPRC during HealthPack 2012. "We've developed a healthcare advisory board [that includes] Kaiser Permanente and Stanford. We take a value-chain approach that involves the hospitals improving the material recognition of plastics, best practice methods, space, and logistics. Corrugated recycled is used extensively at hospitals, but if it will cost, they can't afford it." He noted that HPRC focuses on prepatient, noncontaminated materials.
He said HPRC continues to conduct pilot studies at U.S. hospitals that focus on learning the best ways or practices to collect and recycle plastics cost-effectively. Penny pointed to a nine-month study at Cleveland Clinic in which 50% of waste was attributable to polypropylene wrap, with the rest coming from packaging that includes both rigid trays and flexible materials.
"Some desirable design practices could be to create polyolefin seals, PP bottles, and plastics made from one discreet product," Penny explained. Worst practices, he pointed out, included "rubber seals on PP bottles, chemically incompatible plastics; welding or gluing of unlike components, paper indicator tape on sterilization wrap, paper labels on plastic wraps, and metalized products."
Responsible packaging by design
Ed Church, executive director of the Intl. Safe Transit Assn. (ISTA), spoke of the organization's Responsible Packaging by Design voluntary program he said had been vetted by government and non-governmental organizations. "We hope it becomes a standard process for the design, testing, and qualification of responsible packaging," he said. "It evaluates package designs for the same application, and uses life-cycle thinking in developing a packaging system, whether it's a full load or not." Church noted that Responsible Packaging by Design includes eight steps and was due to be refined prior to a possible rollout to members or nonmembers.
Recycling uncertainty in hospitals
In their presentation, "Voice of the Customer-Part IV," Jennifer Neid Benolken, CPP, senior packaging engineer at St. Jude Medical, and Jennifer Blocher, medical device applications specialist, Sealed Air, discussed the issue of sustainability at hospitals as seen through a nurses survey. (Both of them are shown in the photo here.)
Blocher said 64% of rigid trays are trashed in the U.S. Results were similar for nurses in Europe. In addition, eight of 10 noncontaminated pouches are tossed in the trash in this country.
In one question, 41% of nurses weren't aware of the availability of a recycling program at their hospital. The same number said their hospital did have such a program.
Promoting HDPE
TEQ's Darrel Blocksom, director of operations, added to HealthPack's sustainability conversation from the perspective of a thermoforming company. He noted that 5.9 million tons of waste are generated annually by hospitals.
"Multiple materials in the same package are challenging," he noted. "These require a large amount of space in the operating room and it takes a certain amount of time to separate those materials." While saying other resins "have their place in medical device packaging," he touted HDPE for its recyclability. "HDPE resin costs are lower than both HIPS and PETG, has a higher yield, so you get more parts per pound, so there's a lower part cost. HDPE has impact-, tear-, and chemical-resistance benefits.
"Yet the challenges for HDPE are that it has lower stability, not the transparency you get with PETG. HIPS offers many colors. HDPE is difficult to form compared to other materials. Resin and film suppliers continue working to get better contact clarity. And there's better dimensional stability and control from suppliers, and better control of thermoforming machines, whereby we can work on tooling and process parameters to hold trays flat, especially the seal flanges."
Blocksom touted the combination of HDPE tray with DuPont™ Tyvek® lidstock as a system that's disposable and recyclable without having to remove the lid from the tray. "That reduces the time to separate them by permitting one container for those items to go into. And the adhesive amount is so low it's not a recycle-stream consideration. Paper labels with adhesive prevent anything they're on from being recycled," he said.
One roadblock to changing material, he noted, has been in the stability testing of these different materials. When asked in a presentation follow-up question-and-answer segment, "Why hasn't anyone in this room done this before?" Blocksom responded that it's been difficult to control HDPE in past. "We're learning a lot about processing now," he added.