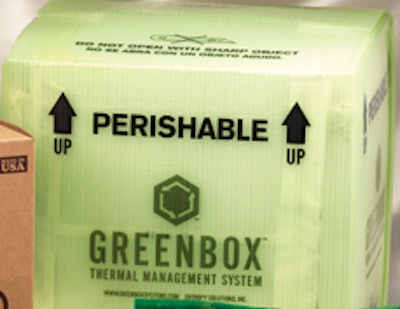 Shipper for temperature-sensitive products Pharmaceuticals, biologics, and blood supplies, as well as food products requiring carefully controlled temperature during distribution throughout North America, Europe, Australia, New Zealand, and Singapore, are all potential applications for the Greenbox thermal management system from Entropy Solutions (www.entropysolutionsinc.com). In this year's Greener Package Awards, Greenbox took home not only a Greener Package Award, but it was also selected as Innovator of the Year.
Entropy touts Greenbox as the first temperature-controlled shipper to be "powered" by a 100% bio-based, nontoxic, and biodegradable phase-change material called PureTemp. The material is a specially engineered vegetable-oil derivative that controls temperatures to extremes ranging from as cold as dry ice to as hot as coffee. The patented phase-change materials simultaneously absorb and release heat. PureTemp is contained in "E-Packs," and as one E-Pack liquefies, another solidifies, providing a thermostat effect until the package reaches its destination.
The award-winning package maintains a payload's temperature for more than five days and addresses the issue of product spoilage, which causes the life science industry alone more than $3 billion per year in lost product, explains Entropy. "Because it [Greenbox] can be shipped ground (versus overnight express) and is reusable, it helps customers save more than 65 percent on shipping and distribution costs," the company says.
Greenbox contains a hard, corrugated plastic outer shell, layers of Thermal-Lok™ insulation, and E-Packs. Each of these components is designed so that it can be switched out at the end of its useful life. Entropy says Greenbox is reusable more than 50 times, with "many customers experiencing up to 100 times." That differs from more traditional shippers that use corrugated, expanded polystyrene, and gel packs. No part of the Greenbox should ever be landfilled, as all components are recyclable or biodegradable.
One Greener Package Award judge summarized the package: "In addition to innovative materials and a system that minimizes product spoilage (in many ways the loss of product is a bigger environmental impact than single-use packaging and is rarely accounted for in LCA [Life Cycle Analysis] studies), the effort to set up a comprehensive return-and-reuse process represents an in-depth understanding of a systems approach.
"It would have been helpful to have more data regarding the full life cycle of the packaging material compared to standard materials, and a full LCA is recommended to further document this very clever approach's superiority."
Walmart's Specialty Pharmacy in Lake Mary, FL, and St. Paul, MN-based Memorial Blood Centers have both employed the Greenbox shipper. To read these case histories, visit www.healthcare-packaging.com/walmart and/or www.healthcare-packaging.com/memorial .
See other Greener Package Award winners
Companies in this article