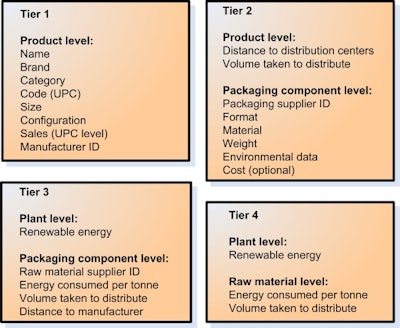 This information is provided by James Ross Consulting, a global packaging consultancy that has developed Greenshare, a sustainable packaging metric that operates on the principles described in this article.
Sustainability has become the Holy Grail of packaging, without there being any real understanding of what sustainability actually means in terms of packaging; how it can be measured, or more importantly, how to achieve it without costing your business a fortune.
This article takes a fresh look at packaging sustainability and offers some practical advice on determining its definition, the controllable metrics involved and how to turn all of this into a practical project and strategy on a global scale.
Sustainability means making the best environmental, economic, and technical choice of resources based on current knowledge and future trends.
For manufacturers and retailers, the four ways to achieve packaging sustainability strategy are as follows:
1. Reducing packaging weight;
2. Reducing the distance the packaging has to travel;
3. Reducing the volume of space required distributing your product; and, finally,
4. Making appropriate material choices.
Collecting the data
Implementing this strategy relies on the ability to collect and analyze packaging related information from a number of sources simultaneously. To do this, a company needs a centralized system for the four main tiers of your manufacturing or retail business:
Product management – the manufacturer's brand management/sales team or the retailer's procurement / sales.
Manufacturing plants – the manufacturers owned and 3rd party plants or the retailer's private-label and nonprivate-label sourced plants.
Packaging suppliers/converters – the people that convert materials into packaging that is used by the manufacturing plants.
Raw material processors – the people that take raw materials and turn them into a format used by packaging suppliers/converters.
As a starting point, the following data building blocks—each a subset for the four tiers—are recommended (see accompanying graphic).
Creating the packaging strategy
The packaging strategy then follows from the data that has been collected.
First you identify your current packaging datum point. This means understanding the following fundamentals:
Tonnage used per material
Tonnage used per material category (plastics, paper, glass, etc.)
Tonnage used by packaging supplier
Tonnage that is compostable, biodegradable, degradable etc.
Distances that packaging has traveled
Next, you identify targets that become your strategy based on the four simple metrics described earlier.
Packaging weight – target to reduce
You now know the weights of all your packaging and can identify the products that use the largest amounts or products using excessive packaging.
Best-in-Class modeling applied to packaging can identify key areas for lightweighting.
Packaging miles – target to reduce
Packaging miles is a measure used to identify manufacturers that are sourcing their packaging from distant suppliers.
Products with excessive miles when compared with others in the same product category can be easily identified. This measure lends itself to a strategy for local packaging sources.
Packaging volume – target to reduce
Reducing the volume of space required to distribute products will require less transportation, which in turn has a direct impact on the environment. Clearly, over-packaged items will be identified.
Material choice – target the 'least bad'
Based on existing knowledge, there is no right or wrong material choice with regards to its environmental impact. Materials give varying properties technically, aesthetically and environmentally and choice cannot be made in isolation.
Conclusion
Thus, a packaging strategy is created by having the data to know where you are now and then having applicable metrics to move your business to a point that is demonstrably more environmental. A Holy Grail no longer!
For the full report, click here.
Greenshare is also working alongside major retailers and manufacturers across the globe to help them build their environmental packaging strategies. For more information, visit www.greenshare.com.
Companies in this article