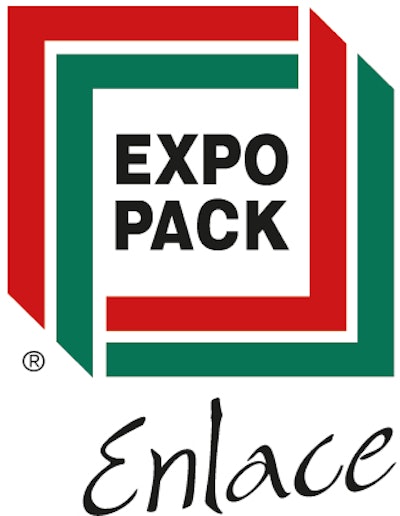 Enlace EXPO PACK, the most comprehensive online event for the packaging and processing industry in Latin America, launches tomorrow. Presented in Spanish and produced by PMMI, The Association for Packaging and Processing Technologies, the two-day event features a wide-ranging online directory of 100+ top suppliers, as well as two educational tracks: Mundo de Expertos, presented in conjunction with Mundo PMMI and exhibitor-hosted Innovation Stage sessions.
"While nothing can replace in-person events, Enlace EXPO PACK will connect and educate businesses to keep the Latin American packaging and processing industry moving forward until the return of EXPO PACK México to Mexico City next year," says Laura Thompson, PMMI vice president, trade shows.
Thousands of attendees have been exploring the Exhibitor Directory since registration opened in April, viewing Product Presentations on Demand, scheduling meetings with suppliers and adding 25 educational sessions to their Mi Agenda Enlace planners. Enlace EXPO Pack begins each day with Mundo de Expertos, 30-minute morning sessions featuring leading experts in the packaging and processing industry such as Griselda Ramos, Director of Sustainability for Natura Mexico; Paula Schreiber, Global Plastics Sustainability Manager for Unilever; Daniela Gonzalez, Global Leader in Packaging Innovation and Sustainability for General Mills and Mariano Marcos, Head of Maintenance for Ades, Coca-Cola, among many others. These thought-provoking sessions will cover trending industry topics each morning at 10 AM CDT and 10:30 AM CDT.
Innovation Stage sessions immediately follow the Mundo de Expertos sessions from 11:00 AM CDT – 2:00 PM CDT daily. These pre-recorded 30-minute sessions showcase the latest innovations and technology breakthroughs from exhibitors and include topics such as sustainability, e-commerce, automation, traceability and AI. Presenters will be available via live chat during the sessions, providing attendees opportunity to ask questions and interact with other viewers.
The Showcase of Packaging Innovations, sponsored by Domino Printing Mexico and KHS México, S.A. de C.V., will debut at Enlace EXPO PACK shining a spotlight on award winning packages from around the world. Attendees are encouraged to visit all the award winners here...
Along with associations taking part in the Showcase of Packaging Innovations, Enlace EXPO PACK benefits from close collaborations between PMMI and strategic association and chamber partners.
"The support of Enlace EXPO PACK's strategic partners plays a fundamental role in connecting the industry and providing a valuable information exchange on the latest innovations in packaging and processing for all vertical markets.," says Jorge Garibay, Director of EXPO PACK México.
The 2021 Enlace EXPO PACK Strategic Partner Program includes:
National Chamber of the Canned Food Industry, CANAINCA
National Chamber of the Pharmaceutical Industry, CANIFARMA
National Chamber of the Cosmetics Industry, CANIPEC
Mexican Meat Council, COMECARNE
International Association of Metallizers, Coaters and Laminators, AIMCAL
National Chamber of the Graphic Arts Industry, CANAGRAF
National Chamber of Metal Packaging Manufacturers, CANAFEM
Mexican Association of Packaging, AMEEANUGA Food Tech
To take advantage of the full education program, connect with top suppliers and register free of charge, visit enlaceexpopack.com.mx.