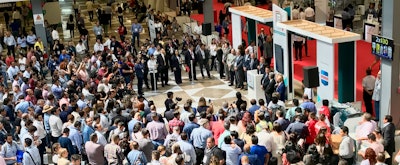 The largest EXPO PACK Guadalajara ever opened today with more than 700 exhibitors across a show floor 15 percent bigger than the previous edition. Already the most significant packaging and processing event in Latin America, show owner and producer PMMI, The Association for Packaging and Processing Technologies, also expects record attendance of 16,000, exceeding initial expectations.
"There is no better place to see machinery in action, new packaging designs, sustainable materials and more," said Jorge Garibay, Director of EXPO PACK Mexico, during his opening statement. "Attending EXPO PACK Guadalajara 2019 is the best way to learn, network and see first-hand the best packaging and processing solutions for all industries."
Over 130 exhibitors are introducing products never presented at previous EXPO PACK shows, with 110 exhibitors participating for the first time. Truly an international exhibition, EXPO PACK Guadalajara has seven international pavilions from Argentina, Canada, China, France, Italy, Spain and the U.S.
"EXPO PACK has expanded its education program yet again, adding comprehensive sessions that address ever-evolving, pressing industry challenges," said Garibay.
The Innovation Stage returns, providing free daily sessions with real examples of applicable solutions on the show floor. The daily conference series, EXPO PACK Keynotes, debuts at EXPO PACK Guadalajara, highlighting successful packaging developments for e-commerce, sustainability and the circular economy.
Sustainable solutions remain top of mind for exhibitors and attendees alike, with 161 exhibitors taking part in the 10th-anniversary edition of the EXPO PACK Verde program.
Garibay's opening statement, he also thanked representatives from local chambers, government and industry associations for their continued support of EXPO PACK Guadalajara 2019
"The continuous support of our partners points to the growth of the Mexican market as well as their confidence in EXPO PACK as the Latin American destination for keeping pace with innovations and technology to address this growth," said Garibay.
For more details and the full schedule of programs available at the event, visit expopackguadalajara.com or download the EXPO PACK Guadalajara 2019 mobile application, sponsored by ProMach (Booth 2108). Regostration is available onsite or at expopackguadalajara.com.