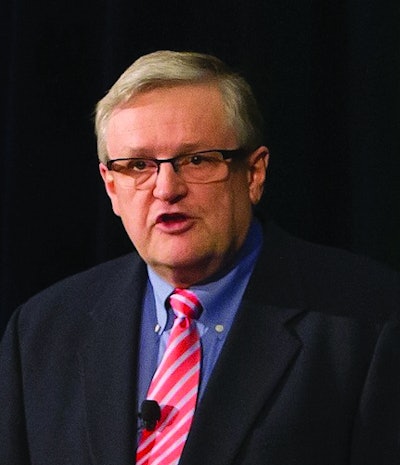 Among his many accomplishments in technical innovation and his contributions to the packaging industry, this PMMI Packaging & Processing Hall of Fame inductee led the team that developed and commercialized the first metallized film susceptor packages in the early '80s. "The first few susceptors were simple in concept, but complicated in execution," says Bohrer. "But over the years, we developed a very large patent portfolio of technologies and kept pushing the envelope."
During his 45 years in packaging, Bohrer has been named inventor or co-inventor of 17 patents for microwave packaging technology, composite containers, barrier film, thermoforming, and other technologies. While leading the team that made a whole new market possible through the use of susceptor technology is certainly a highlight of his career, Bohrer can also list a number of others, made possible, he says, by supervisors and managers who gave him the latitude to "stretch."
One highpoint, he shares, came when he was less than two years out of school, working at American Can. Asked to assess tubular water cooling technologies for blown film, Bohrer scouted out the best option for the company and laid the groundwork for a pilot line that eventually became a part of American Can and its successors' process. "At a very early stage in my career, having a chance to lead that process and be trusted to go out and find something and make judgements was a very big deal to me."
Another milestone was his move from an engineering role to a supervisory one during his time at James River, which eventually led to him directing a large technology group there. "I began to learn how to coordinate the activities of multiple people, to choose the right skill sets and assign them to different tasks, and to start being a mentor and a teacher."
Packaging education, in fact, is near and dear to Bohrer's heart. For 20 years, he was a Clemson University Packaging Science Advisory Board member, ramping up his participation after starting his consulting business in 2008 as a way to give back. "I really enjoyed my time working with the folks at Clemson," he says. "I had a chance to meet with a lot of young people and give them direction and advice. I think it's crucial for packaging companies to take packaging education seriously, even if all they do is hook up with a two-year junior college in their area that teaches the technologies and skills that are needed."
Especially valuable are internships, he adds. After all, it was an internship at American Can during the summer before his senior year of college that led Bohrer down the packaging industry path. "That's where I learned the interesting and challenging things that could be done in packaging, and I told myself, 'This is the company I want to work for. This is the kind of stuff I want to do,'" he recalls.
After finishing his undergrad work in chemical engineering at Michigan Tech University, Bohrer got his Master of Science in Chemical Engineering from Purdue University, then returned triumphant to American Can.
Today, Bohrer says he has the luxury of only working on consulting jobs that meet three criteria: The work has to be intellectually challenging, the work must be meaningful, and the clients must be those he genuinely wants to work with. "That's what I enjoy a great deal," he says. "It engages me on an intellectual level, it's satisfying in terms of doing something that makes a difference, and it satisfies me on an emotional level, with friendships and the enjoyment of working with good people."
The Packaging & Processing Hall of Fame will welcome all five new members as its 45th class at PACK EXPO International 2018 (Oct. 14–17 ; McCormick Place, Chicago), according to Hall of Fame coordinator and show producer PMMI, The Association for Packaging and Processing Technologies. This year's other inductees are Keith Pearson, Michael Okoroafor, Susan Selke and Chuck Yuska. Read short snippets about the other inductees by clicking here, or read their full profiles, to be posted individually in coming days, by clicking here.