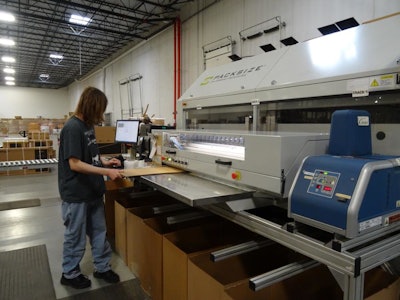 When speaking about the relationship between e-commerce and packaging, the discussion usually centers on the physical pack. Often overlooked is the innovation taking place around packaging equipment to meet the specialized needs of this channel. While traditional distribution channels involve large volumes of similar-sized packages, e-commerce requires extreme flexibility, especially in terms of secondary or tertiary packaging. Shipping cases may be constructed of heavier material to help the package withstand the 30+ touches it may undergo during distribution; void fill or insulation may be required; and case or bag sizes may need to be changed on-the-fly, among other considerations.
One category of machines that has sprung up in response to e-tailers' need to optimize shipping-case sizes is on-demand box-making equipment, which can custom-manufacture boxes to fit each individual order size. Advantages of this technology include reduced warehouse space for premade boxes, lower shipping costs, reduced corrugated and void fill usage, and greater protection for products that fit snugly in their shipping case.
There are currently several manufacturers of this equipment. For Newegg Inc., a consumer electronics e-commerce company based in City of Industry, CA, the best solution was Packsize's On Demand Packaging® system.
Established in 2001, Newegg offers close to 10 million consumer electronics products, with 50,000 stocked in its warehouses, and the rest offered through its market-based channels. According to Jeffrey Zeng, Senior Director of Corporate Engineering, Logistics Department for Newegg, since its launch, the company has differentiated itself through efficiency and customer service. With strategically located facilities throughout the country, Newegg can provide two-day shipping to more than 90% of the U.S. and Canada and offers will-call and various pick-up options. It also ships to more than 50 countries.
"We offer a lot of unique products with competitive pricing in the IT categories, because we are a destination for people who are either building a computer or are geeks or gamers. They want the latest and the greatest," says Zeng. "Beyond that, we're selling some of the same products at the same price as our competitors, so supply chain becomes the differentiator. Therefore, we focus a lot on supply chain efficiencies as well as on being very customer-centric."
Being customer-centric means making sure the customer has a good experience with Newegg, especially post-purchase, Zeng adds. "When we ship product to the customer, besides getting it to them fast, we want to make sure the box the product comes in is optimized and secure," he says.
One technology used by Newegg to securely package products that don't fit into its standard size cases without a lot of dunnage—or that are too expensive to be left on a customer's doorstep in a box clearly identifying it as having come from Newegg—is on-demand box-making. Between 2012 and 2016, Newegg installed six Packsize CNC-controlled converting machines across its four U.S. facilities, including two model EM7-25 systems at its Indianapolis facility. The 412,800-sq-ft Indy facility stocks 10,000 SKUs and uses the Packsize machine to handle 20% to 30% of its orders.
As Chuck Cornwell, Warehouse Manager for the Indianapolis site, explains, the decision to install the Packsize machines was based on the high costs of DIM weight, or dimensional weight, pricing, a method adopted by carriers such as UPS and FedEx that favors denser packages over those that are lightweight. "Most of our shipping costs are calculated by DIM weight," Cornwell says. "Although we do have 10 large, standard-size boxes, by using them for some of our multi-SKU orders, we end up adding a lot of dunnage. If we can get a box smaller than say a #10 box [21¾ in. L x 16¾ in. W x 11¾ in. H], and we can put it in a Packsize box, we can save a lot of money on shipping."
To determine whether an order will be packed into one of Newegg's standard case sizes, a Packsize case, or some other packaging format, e.g., a padded envelope, the company relies on the dimensions of each product. Every time a new product comes into the warehouse, it is measured and weighed by Newegg's Cubiscan dimensioning system. When Newegg receives an order from a customer, its Warehouse Control System—an Exacta conveyor control system from Bastian Solutions—calculates the combined dimensions of all the products and specifies the correct box size. If a custom-made box is required, the WCS sends the cubing calculation to Packsize's PackNet software.
If the order contains a number of SKUs, for example, all the components needed to set up a computer system, it goes to Newegg's small-item area, or "smalls," where one of the facility's two EM7-25 machines is located. Using the information from the WCS, the machine creates a custom case blank from Packsize's proprietary z-Fold™, or fan-fold, corrugated stock. Newegg uses 32 ECT E-flute corrugated made with 100% virgin material, which provides the sturdiness required for the high-value items the company ships. The machine in smalls is equipped with three tracks, each holding a different width of corrugated—17¾, 23½, and 28¾ in.—to minimize scrap. Notes Zeng, the machine can create 200-plus case sizes, accommodating Newegg's most common SKUs.
Once the case blank exits the machine, an operator seals the side of the case using a Nordson adhesive system, erects the case, and applies an LPN (license plate number) label that was printed at the same time as case converting. From there, the operator places the case on an infeed conveyor. As the case is carried along the conveyor, scanners read the LPN and direct the case to those zones (there are three) from which the items in the order are picked and packed. When the order is complete, the case is conveyed to the shipping area, where labels are automatically printed and applied.
The other EM7-25 is located in what Newegg calls the bulk area. Here, items like laptops and other high-value electronics are packed in custom-made cases that do not carry Newegg branding. "We'd love to have the Newegg name on the box, but if someone sees a box on a doorstep that has our name on it and is the size of a laptop, they're going to know what's in it," says Cornwall. "So, it's best to use a plain box for those products."
For these items, pick operators "pick to card," meaning they scan a card with the order and then find the item (for bulk, it's usually just one) from pallet stacks. They then deliver a number of orders on a pallet to the Packsize along with the card for each order. Here, the Packsize operator scans the card, which tells the machine what size box to create from one of three sizes of corrugated—17¾, 23½, or 31¼ in. Once the box is glued and erected, the operator manually packs it with product. From there, another operator adds air pillows, if needed. Next, the case is conveyed through a 3M case taper, after which it is conveyed to the shipping area.
The Packsize machine in smalls runs at 1,000 to 1,200 cases/shift; in bulk, it's 490/shift. (The EM7-25 is capable of running at 250 to 500 cases/hr, depending on the box size.) Explains Cornwall, "We're not necessarily worried about the speed, but rather the throughput of the entire process. Ultimately, it's all about the customer experience, so we focus on the flow of merchandise to the shipping dock to get the order to the customer within two days."
Companies in this article
Videos from Nordson Corporation