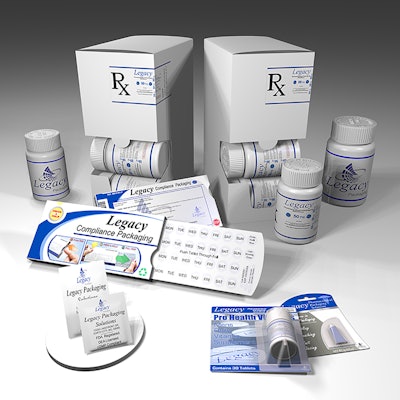 Contract packager Legacy Pharmaceutical Packaging has completed its move into a modernized 190,000-square-foot production and headquarters facility in St. Louis to better serve the global pharmaceutical industry with bottling, blistering, pouching, unit-of-use, compliance and secondary packaging services. The new plant is more than twice the size of the company's previous facility.
The new facility provides space for production and service additions and upgrades including:
Ten new packaging lines,
A new Drug Enforcement Administration-approved Schedule II vault that can hold up to 300 pallets of product in compliance with 21CFR 1301.72;
Verified-Accredited Wholesale Distributor status, which pertains to prevention of potentially counterfeit drugs from entering the U.S. drug supply; and

A 1,500-square-foot training facility with a dedicated space to train equipment operators and packaging specialists without interrupting day-to-day operations.
"The new facility exemplifies our commitment to anticipating and investing in our customers' future needs," said Brad Rayner, executive director of sales & marketing, adding that this is the company's largest-ever infrastructure upgrade and expansion. Legacy is a full service pharma solution provider servicing the branded, generic, government, wholesale and major retail markets. Legacy is registered with the FDA, VAWD accredited and licensed by the DEA to handle Schedule II-V drug products.
Companies in this article