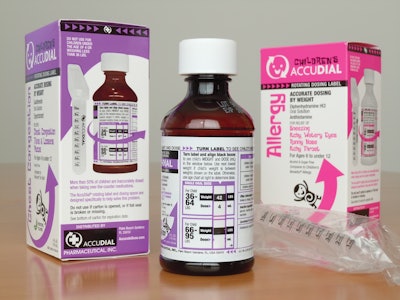 Bio-Pharm (www.bio-pharminc.com), a leading supplier of generic pharmaceutical formulations, is packing a new a line of liquid over-the-counter medications for AccuDial Pharmaceutical of Palm Beach Gardens, FL, which AccuDial calls a "revolution in over-the-counter dosing."

The innovation is a two-part label that allows users to twist an outer label and essentially dial-in a precise dose in milliliters of a liquid medication based on the child's weight. The labeling and "Spinformation" technology (www.spinlabels.com) on which it's based are from Stephen Key Design, which AccuDial acquired on October 4.

Bio-Pharm uses this technology to produce the Children's AccuDial product at its 40,000 sq -ft facility in Levittown, PA. Bio-Pharm uses a capper to apply child-resistant closures on filled bottles.

The installation is innovative at every step, including application of the outer label. "The unique thing," says Robert Terwilliger, AccuDial's CEO, "is that the adhesive is not on the label when the label is manufactured, but instead the adhesive is placed on the label when it is being applied to the bottle."

In separate but related news: Another (undisclosed) contract packager is providing services for the PediaCare and Little Remedies infant and toddler lines owned by Irvington, NY-based Prestige Brands (www.blacksmithbrands.com), which changed the packages to comply with an industry-lead initiative of the Consumer Healthcare Products Association.

The change: An older syringe for concentrated drops has been redesigned using a new two-piece dosing syringe with a polypropylene barrel and high-density polyethylene plunger. A new press-in bottle adaptor and a flow restrictor reduce accidental ingestion.
Companies in this article