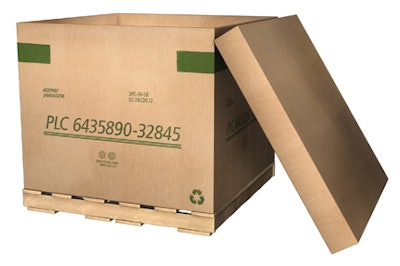 The industry generically known as "cardboard" is valued at $49 billion in the U.S., according to IBISWorld Industry Reports. Unfortunately, most of that material is used once and then recycled or thrown away. Could there be a better solution?
Buying used corrugated shipping cases and then reselling them for reuse—how simple is that? Well, not that simple, it turns out, according to Marty Metro, CEO and founder of UsedCardboardBoxes.com. Metro began his business by buying used moving cartons from neighbors, then reselling them to other people at about half the price of new ones. The concept worked—people were happy to sell used cases. And then large companies, including consumer product manufacturers and contract packagers, started asking for the same service. A business was born, but it was not smooth sailing from the outset.
"After the dot-com bust, I was unemployed and came up with the 'crazy' idea of buying once-used moving boxes from people throughout the neighborhood, for roughly 10 cents, and selling them to other people who are moving out, for roughly one dollar, which was about half the price of new moving boxes," Metro relates.
Storage challenges arise
"I created a Web site called www.BoomerangBoxes.com, and it quickly got a lot of traction. We soon learned that we couldn't just connect people online, but had to create a retail storefront where people could come to buy and sell," Metro continues. "The retail store was very busy, but not profitable or scalable. We had tons of people coming in on a daily basis and purchasing $1 boxes. But at the end of the month, the retail infrastructure, multiplied by the four stores we had launched, was killing us."
To keep up with demand, the company had to buy used cartons by the tractor-trailer load. However, adequate storage space in any of the four retail facilities was lacking, and the costs were overwhelming, Metro admits. "So, in 2005, we had to shut Boomerang Boxes down. It was really hard on me, emotionally and definitely financially. The challenge was, how do you get funding for a failing business model?"
In 2006, Metro was able to secure funding to rewrite the business plan with a much more technological focus, with a scalable model. He named the company UsedCardboardBoxes.com and tested the concept of shipping moving kits to consumers via UPS in Los Angeles. The concept worked well, and in just one year, the company expanded to eight more distribution points in the U.S. With new sites, the company can reach any residential address in the country in one to two business days.
Changing the name to something very self-explanatory had positive effects. "We got a lot of press and created a nice buzz about us," Metro says. "We became the number one response on Google for the search term 'used boxes.' Large companies started calling us, either asking us to sell them used boxes or to buy theirs. We continued to build our national infrastructure to meet both the needs of our supply and our demand.
"Today, we still run a very lean organization but operate out of more than 40 distribution points in the U.S. where we either buy, sort, or sell used boxes for all sizes of companies in many different industries."
The need for so many distribution sites is a result of high transportation costs, Metro says. It would be almost impossible to turn a profit if the company had to absorb cross-continent transit costs. Metro says the firm uses freight brokers to negotiate the best rates.
UsedCardboardBoxes.com buys from many contract packagers around the U.S., and some co-packers purchase used containers as well. Obviously, no manufacturer can ship its product to customers in cases with another product's brand displayed, but those containers are used for reverse logistics and backhauling.
Spicing up sustainability
One company that has been selling and buying used cases for at least 15 years is McCormick & Co., according to Jeff Blankman, sustainable manufacturing manager. McCormick has a strong corporate commitment to sustainability, and reducing waste is just one aspect of its approach.
"Our environmental stewardship is evident globally as we look for ways to reduce material-usage rates on all packaging components such as corrugated folding cartons, plastic and glass bottles, and more," says Blankman, quoting a company resource. "In addition to reducing material usage, McCormick is investing resources in researching alternative materials, such as bio-resins, for use in our plastic components. We also continuously evaluate energy-saving projects in our supply chain, specifically in the manufacturing and transportation of our packaging material, as well as conserving natural resources, including energy and water. We understand that every part of our operation has an impact as we continually look for ways to optimize our processes."
McCormick primarily sells used cases received from suppliers but also buys used containers for purposes such as shipping used plastic scrap to the recycler. Metro is working with Blankman to find even more ways to reduce waste.
How green is that?
"When we started UsedCardboardBoxes.com, we thought it was so great because companies could 'go green,' and it not only doesn't cost more, it saves them money," Metro explains. "But the reality is, businesses want to be green—but not if it costs them. Over the course of time, we realized that we are a green company, and we are very proud of that. However, the major value we can deliver is that we either can buy used boxes for more than a recycler or we can sell used boxes for less than new. That is the driving factor for most of our customers: The fact that we put money in their pockets is key. The fact that we also help them be greener is a bonus."
So how does UsedCardboardBoxes find its customers? "We are the number one organic response on Google for 'used cardboard boxes' and rank high for 'used boxes' and even 'cardboard boxes,'" Metro says. "We don't pay for that. People really like to be involved with a company that is not only saving people money, but saving the environment. We are win/win/win.
"All of our boxes are sourced from large manufacturers with very clean facilities," he adds. "The boxes come from the suppliers to the manufacturer, then we get them. It's a very clean process. Then we have two inspection points after we receive them, but before they go out. We first educate our suppliers on what we pay for, and how much. So, our suppliers have the incentive to provide us with the best-quality boxes. Then, we inspect every box that enters our facility to see if it's reusable or recyclable; all boxes are one of these two. Then, depending on the criteria of the customer, the reusable boxes are inspected against that criteria and palletized for shipment via truckload. If the boxes are used for our moving kits, they are inspected by a different person, against our own criteria, and included in our kits."
Because Metro is a former IT professional, the company has built a sophisticated online system that requires little human interaction. "On the B2B side, we have built a relational database that matches our national supply of boxes to national demand," Metro says. "It looks at L x W x D, wall thickness, location, and price to find the best matches. The system then alerts us of all the opportunities nationally, where we can get the right boxes to the right customer at the right price.
"We also have a third system we built that manages all of our trucking and freight so that we know where the trucks are, what they have on them, where they are going, when they were unpacked."
UsedCardboardBoxes.com is living green and helping other companies do so as well. This time around, the business model is working.

Companies in this article