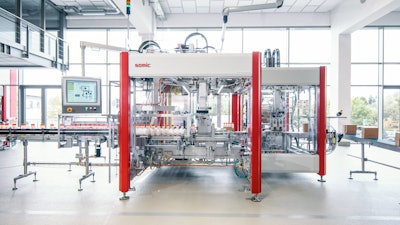 This content was written and submitted by the supplier. It has only been modified to comply with this publication's space and style.
This machine will run various bottles in many secondary packages, from standard wraparound cases to two piece display trays with covers.
Somic America's high-speed, retail ready packaging systems were on display at PACK EXPO Connects, November 11-13.
"It was far from ideal given the circumstances, but we did the next best thing and brought our new machine to the PACK EXPO audience via their computers and smartphones," acknowledged Peter Fox, Senior Vice President of Sales for Somic America.
"This virtual event provided us not only with an opportunity to demonstrate the flexibility of our compact, end-of-line case packing system, but we also were able to showcase our incredible manufacturing facility and its capabilities."
The SOMIC 424 series serves as a starting point for all of the company's customized, high performance packaging solutions. Most are configured to run stand-up pouches, flow packs, and other flexible material packages. This compact machine, to be installed next month at Hartz Mountain Corp.'s manufacturing facility near Cincinnati, is configured with Rockwell automation controls to handle a variety of blow-molded bottles.
"I'm very impressed with this machine because it demonstrates the flexibility we have to create a unique secondary case packing system for any type of package," said Fox. "This machine enables end users to package a variety of products in standard wraparound cases and two-piece display trays with covers. Designing a machine that packages pre-bundled rigid bottles with flip top closures, finger pumps, and trigger sprays represents a new element for us in North America, one that we are truly excited about."
Fox is also happy with the early results of a new 16-page Retail Ready magazine he introduced in the week leading up to the virtual event. The inaugural issue, assembled by his marketing agency Drucker Group, provides in-depth and informative news about Somic and the various industries where the machines are producing results. A free subscription is available by clicking here to register.
---
Visit Somic America's PACK EXPO Connects virtual showroom here. The PACK EXPO Connects website will be available through March 31, 2021.
---
Companies in this article