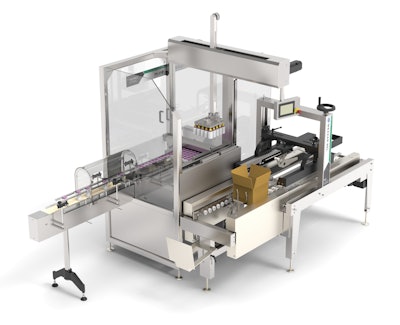 Machine combines solutions from NJM and Wexxar Bel as well as serialization and aggregation options from OPTEL.
"Cumulus is the smallest and most affordable case packing station currently on the market that satisfies upcoming aggregation legislation. It's designed to help pharmaceutical manufacturers and contract packers quickly and easily comply with traceability requirements while automating their end-of-line processes to increase productivity," said Daniel Lapierre, Vice President of Marketing for the ProMach Pharma Business Line. "NJM and the ProMach Innovation Center have integrated best-in-class technologies to create a high-quality semi-manual case packing solution that is both simple and versatile."
When equipped with OPTEL's serialization/aggregation solution, the Cumulus Model SLPP-15 Case Packer is ideal for regulated pharmaceuticals. Without it, this case packer is ideal for OTC pharmaceuticals, nutraceuticals, cosmetics, foods, beverages and other products.
Featuring a servo-driven, two-axis pick and place system that achieves speeds of 10 cycles/min, Cumulus case packs up to 180 bottles/min, depending on the number of layers and bottles in the case, to produce up to 10 cases/min. It handles round and rectangular bottles from 1 to 6 in. (25 to 152 mm) in diameter and from 2 to 8 in. (51 to 201 mm) in height. It packs cases as small as 8 in. long, 6 in. wide and 5 in. high (203 mm long, 152 mm wide and 127 mm high) and as large as 26 in. long, 16 in. wide and 15 in. high (672 mm long, 406 mm wide and 381 mm high). It can be quickly changed over to handle a new bottle and case size, with no tools required.
Bottles enter the SLPP-15 on a conveyor where a pneumatic pusher moves one row onto a stainless steel tray. The pusher repeats this movement until the array/pattern is formed. The operator inserts a case into Wexxar Bel's BEL 5252u semi-automatic case former, which forms the bottom of the case and holds it in place. The operator slides the case over to activate the servo-driven, Y-Z vacuum pick and place system from NJM, which inserts the layers into the case. Once the case is filled, the operator then slides it through the sealing section of the BEL 5252u to seal the top and bottom of the case.
If serialization/aggregation is needed, NJM will equip the Cumulus Model SLPP-15 Case Packer with printers, cameras and track-and-trace software from OPTEL. After labeling bottles with serialized 2D barcodes upstream of the case packer, OPTEL's BottleTracker™ marks the bottom of each bottle with a 'unique identifier' in black or UV ink using a continuous inkjet printer. OPTEL's vision system verifies the components and associates each unique identifier to the bottle label's serialized code. This approach facilitates precise aggregation by enabling the case packer's vision system to capture one image of the entire layer of bottles, with the unique identifier of each bottle in that array visible.
The OPTEL BottleTracker connects with other OPTEL systems whose job it is to verify, report and manage the serial numbers, including creating parent-child relationships at secondary packaging. After sealed cases exit the case packer, NJM's Model 403 Final Touch™ Print & Apply Labeler produces serialized labels and applies them to the cases, if needed.
The Cumulus Model SLPP-15 Case Packer features a B&R control system and HMI.
Companies in this article