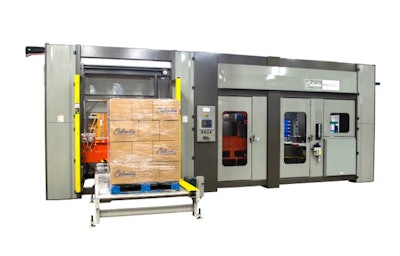 As a fully integrated feature, the stretch wrapper includes a dual motor stretch carriage that can be programmed to allow varying pre-stretch levels at different places during the wrap cycle; for example lower stretch at the bottom of the load to protect the film from tearing on pallet corners.
The FL6200SW can simultaneously stack and stretch wrap a wide variety of challenging package types including unwrapped trays, shrink pads, film-only bundles and more. The addition of an integrated stretch wrapper helps when load stability or space constraints are a challenge. With the incorporation of servo technology, high speed turntable and high speed stretch wrapper speeds up to 100 cases/min. are achieved.
The FL6200SW features Category 3, Performance Level D safety components, and also incorporates fully integrated guarding, full height light curtains, automatic four-point hoist pins, case infeed tunnel, and interlocked load building area access doors.
Also standard is the Product Manager HMI and modular construction that allows for multiple layout configurations to fit users' site constraints. Users can effortlessly create and modify layer patterns, view and export production reports, adjust component speeds and timer settings, make stretch wrapper adjustments, and also access manuals and schematics, all through the HMI. Graphic pattern screens can be created at the HMI to aid recovery and provide graphic representation of diagnostics, improving OEE.
Companies in this article