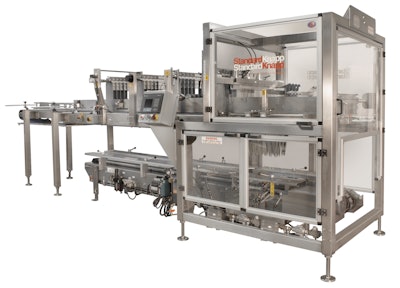 The 939EZ packs the same proven and reliable case packing technology from Standard-Knapp's Versatron family into its most affordable package. It offers the same robust quality, flexibility and adaptability, while operating at speeds of up to 30 cases/min. Standard-Knapp's patented Snap-in Grid technology makes changeover an easy, one-man operation. The 939EZ is equipped with an air-over-oil lift table, which controls the descent of product into the case, and a simple indexing case feed that maintains design simplicity without sacrificing control and speed.
An easy-to-learn and use touchscreen operator interface makes packaging runs simple to set up and execute. See-through guarding and easy-access lubrication and inspection points make maintaining the case packing machine a breeze. Optional equipment and features include a pneumatically controlled flap opener for RSC cases and a graphically driven human machine interface (HMI).
Standard-Knapp has been manufacturing robust packing machinery for breweries for more than 50 years and has become a go-to source for growing craft brewers such as Southern Tier Brewing Company and Boulevard Brewing Company.
Companies in this article