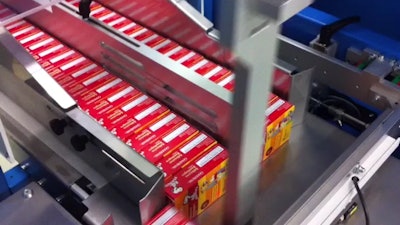 Processing speeds are up to 200 products/min. or 32 bands/min. (performance varies according to product size and stack).
Stack rows are formed in 2's, 3's, 4's, 6's etc. and ultrasonically banded with paper, clear poly film or custom printed materials. Configured with a Markem thermal print system, the ATS US-2000 CL2-TTP-R also has the capability for on-demand printing of dates, barcodes, lot numbers, expiration dates, serialization etc. for traceability.
The ATS US-2000 CL2-TTP-R is a one-step solution for on-demand printing and product bundling with the added benefit of "zero damage" edge protection banding. Manufactured by ATS-Tanner Banding Systems of Switzerland AG.
Companies in this article