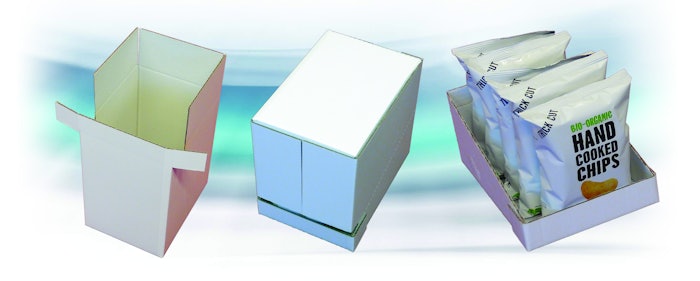 Carefully designed with the retailer in mind, each shipped case easily opens from the back, providing a clean, finished, machine cut front display; eliminating unwanted torn front panels. It is ideal for stand-up pouches and bags of food product such as cheese, snacks and baked goods.
 
To pack RSC cases and retail ready on the same machine, users simply horizontally pack the RSDcase using a DELTA top load case-packing solution to form a shelf ready case in minutes. Our "On-the- Fly" case packing solution eliminates the need for complex case-indexing and product collation, resulting in reduced maintenance and maximum up-time; an ideal high-speed solution for moving single products from one place to another.
The DELTA case packing solution combines high speed and high flexibility in a small footprint. The robot can manipulate single or groups of product to achieve desired pack pattern and maximize case volume. Smooth placement into the RSD or RSC case is always ensured.
Companies in this article