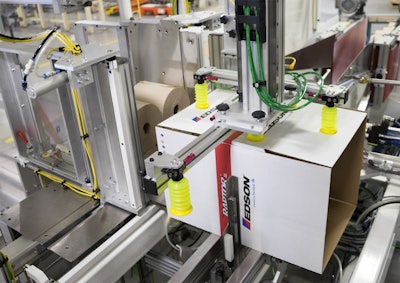 Edson Packaging Machinery, powered by Pro Mach, introduces the Raptor SL fully integrated side-load case packer that erects, packs, and hot melt-seals cases at a rate of up to 12/min. The Raptor SL case packer was designed to give small and medium-sized companies an automated machine that helps to lower labor costs and increase throughput. Raptor SL is suitable for case packing paper products, foods, pharmaceuticals, and personal care items.
The Raptor SL lowers end-of-line labor costs by reducing both the number of workers and overall time associated with case packing, according to the vendor. Loading knock-down-flat (KDF) corrugated cases onto the infeed conveyor is fast and less labor-intensive. With an optional extended infeed conveyor, more than a half-dozen skids containing KDFs may be staged. Based on the speed of production, the extended conveyor can potentially lead to hours of labor-free loading.
The Raptor SL automatically loads each new stack while continuing to run, promoting maximum uptime. Operators can easily select KDF dunnage or zero dunnage loading from the infeed.
Changeover between SKUs can be accomplished in as little as 15 min and does not require tools. Edson also offers an option based on servo technology that performs rapid, fully automatic changeover. This option was developed for packaging lines with numerous SKUs/shift.
The Raptor SL features a fully integrated hot melt unit that seals cases up to 25 x 20 in. Edson partnered with Beckhoff Automation for the Raptor SL's control architecture—an architecture that has been optimized for fast, precise motion control. The Raptor SL also offers fully integrated safety motion control.
Operators can access vital machine functions and information from a touchscreen interface, including recipes for various SKUs, alarm settings, production data, and maintenance documentation (print, diagram, and video).
Companies in this article