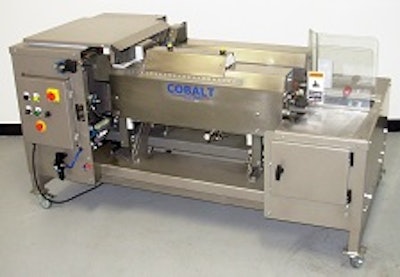 The 100 series case erector clamps hold of the case in the loading station during sealing, assists in case squaring, and allows the operator to release and prepare the next case, maximizing case output.  It features an ergonomic case-loading station with dual triggers to activate fully automatic flap-folding and bottom sealing. It includes a knock-down case staging tray positioned for easy access.
After the case is taped, it is then discharged. This allows the operator to begin opening another case while the discharge is taking place.  When using the case erector in pack mode, taping the bottom ensures that the product will not fall out the bottom of the case as it moves down the line.
Stationary sealing improves case forming quality and speed compared to manual taping for most corrugated board weights and sizes, including light-weight, flexible cases, display cutout cases, and even out-of-spec cases that cannot run automatically.
Easy case width adjustment from 7-in. minimum to 20-in. maximum is possible by adjusting a screw with attached ratchet handle and visual rule.  Easy case length adjustment from 7-in. minimum to 24-in.maximum with locking hand knob and visual rule.
Companies in this article