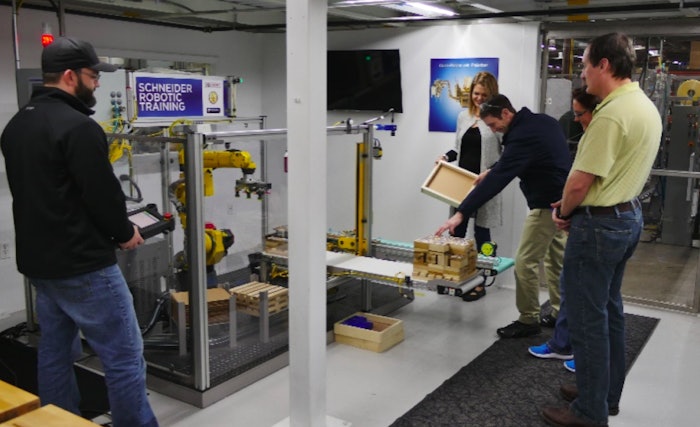 Schneider Packaging Equipment Co., a manufacturer of end-of-line solutions for case packing, sealing, and palletizing, opened a state-of-the-art training center in upstate New York.
The center provides organizations the opportunity to train on equipment in a controlled environment. Through hands-on training, customers can learn specific technical skills without incurring lost production on their lines. Ultimately, this will assist in increasing their operating efficiency.
Training programs can be tailored to the end user and cover everything from programmable logic controllers to robotics. The classroom setting has a training cell that will allow end users to interact with their simulated production environment.
Training courses include:
Robotic Training Cell:
Introduction to Schneider robotics
General FANUC robotics
Unit load creation using Pallet Pro and/or Schneider pallet generation software
Robot troubleshooting
Programmable Logic Controllers (PLCs) Training:
Introduction to PLCs
Introduction to Schneider PLC Logic
Troubleshooting PLCs
Product selection addition to PLC
HMI fundamentals
Servo Motor Training:
Introduction to servos
Servo troubleshooting
Companies in this article