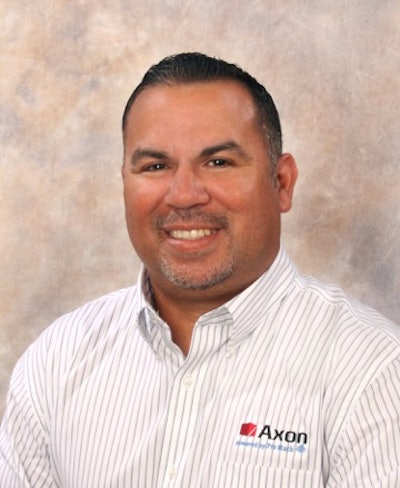 Axon, powered byPro Mach, announced today that Jose Arroyo has been named the company's new Latin American Support Manager. He will be responsible for sustaining the growth of Axon equipment sales and broadening aftermarket programs in Latin America.
Axon is a leading manufacturer of fully automated, heat-shrink labeling, tamper-evident banding, and stretch-sleeving equipment. In the past three years, Axon has introduced the most advanced series of new products in terms of productivity and flexibility in its more than 30 year history.
"With over 16 years in manufacturing, Jose has an impressive background working in a production environment and brings a wealth of experience and knowledge to Axon," says Bob Williams, VP and General Manager, Axon. "He will be an important part of the team that interfaces directly with customers, delivering high value support before, during, and after sales. Since he has worked for several large consumer products group companies, he brings a unique perspective that is an asset in enabling us to partner more closely with our customers."
Prior to joining for Axon, Arroyo served as Senior Operations Manager for Vishay Precision Group. During his career in manufacturing, supply chain, and procurement, he held positions of increasing responsibility for Hospira, Challenge Printing, and Unilever, Inc. Arroyo earned a Bachelor of Science degree in business and marketing from the University of Rhode Island.
"With Pro Mach's expansion of its support to its growing Latin American customer base, including the recent opening of the Pro Mach Mexico Shared Services facility in Monterrey, Mexico, Jose will coordinate and draw upon all of the services available from the organization," Williams continues. "Since Pro Mach Shared Services provides customers, distributors, and agents with aftermarket parts availability, custom stocking of consumables, training, equipment demonstrations, light assembly, and technical field support, Jose will have access to a host of resources that will enhance his ability to help customers."
Companies in this article