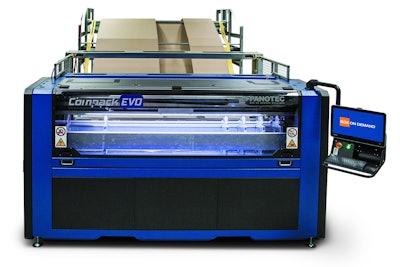 Show Daily Exclusive - To meet rising use of eCommerce and demand for shelf-ready packaging, WestRock (Booth S-2122) showcases new packaging designs and automation options.
"From low to high volume or from manual to high speed, our customized solutions can eliminate void fill, reduce damage and lower shipping costs," says Rick Anderson, vice president of WestRock Automated Packaging Systems.
WestRock's Box on Demand® systems, such as the Compack 1.4 SBS machine on display, overcome the challenges of the highly variable and continually changing mix of products in fulfillment with right-size, on-demand creation/packing/sealing of corrugated shippers. Another model, the Compack EVO 2.5 Inline SBS machine, may be seen at WestRock Box On Demand (Booth N-4947). The flexible technology of the Compack series provides the largest range of corrugated fanfold sizes and types in a single machine; increasing throughput, while allowing for maximum package customization by reducing packing and shipping costs.
In addition to machinery capabilities, WestRock is displaying an array of packaging samples, and structural designers are available to discuss specific challenges attendees may be facing. New shelf- and retail-ready packaging designs enable in-house automation for scalable customization that reduces the need for out-of-house repackaging. These designs expedite replenishment, increase product availability and improve shopper satisfaction with one- and two-piece designs that deliver superior container performance while maximizing brand message at point-of-sale.
"Working with top retailers and manufacturers has given us the insights to develop solutions to address multiple channel pressures, stock keeping unit proliferation and labor reduction," adds Jim Cutter, vice president of Business Development at WestRock. "Our shelf-ready packaging and automation provide better throughput, higher efficiency rates and speed-to-
market," he explains.
For more information, visit www.Westrock.com/aps, www.Boxondemand.com. SD
Companies in this article