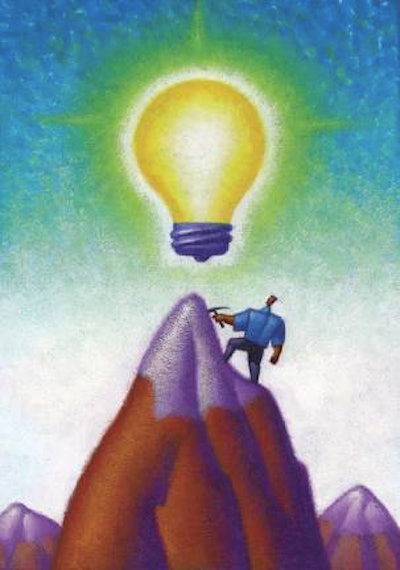 Two engineers, two diverse applications, one piece of advice.
The survey that resulted in our Lessons Learned feature in the July 2006 issue generated more than 100 personal testimonies. One of the more detailed was from Todd Molander, a senior packaging engineer with DePuy Orthopaedics, Inc., a Johnson & Johnson company. He told of an assignment to develop a sterile medical kit that involved "an endless number of variations that didn't work. The 'eureka!' moment came when an operator from the pilot manufacturing area where we were working came over to us with an idea." Molander reports that the operator's solution made the packaging operation simpler and more easily repeatable. It also:
• Decreased labor time by 30%,
• Eliminated three expensive inner bands that did not work consistently; and
• Eliminated kinking of the tubing that was happening about 20% of the time when inspected after sterilizing.
Molander's lesson learned: "I am a total believer in VOC--voice of the customer and asking for input of people outside of the immediate design team.
"Finally, in the last 10 years of my medical packaging development experience, I have seen this type of 'What do you think about this?' VOC leads to many 'eureka!' moments that would not have occurred otherwise."
That's a great lesson learned and shared. It was also echoed closely weeks later during a plant visit earlier this summer to Cummins Filtration, formerly known as Fleetguard, in Cookeville, TN. The company had started up earlier in the year a major new packaging cell for casing and palletizing industrial filters. It involved several major components including two robotic systems.
Different company, same advice
Recalling the just-completed survey, I posed to Cummins packaging engineer Philip Bryant a question I have never before asked in 20 years of in-plant interviews: What lesson did he learn from this experience?
"To solicit the voice of the customer—VOC," he responded. Bryant was referring to Cummins' industrial customers that include companies like John Deere and Komatsu.
His response was prompted by the fact that the robotic line needed to handle cases, trays, and a range of returnable plastic containers (RPCs). Bryant told me that accommodating the RPCs in a range of heights and volumes was one of their biggest debugging challenges for the entire project. Each company's RPC is a bit different, some varying by only a few inches or less.
In hindsight, Bryant believes it would have helped tremendously if they had worked early on with customers, especially those using RPCs. Bryant wishes that he would have tried to coordinate standardization or consolidation of the variety of container sizes that its customers required instead of feeling compelled to accommodate every single variation.
It would have likely improved the customers' efficiencies by reducing their formats, too.
While it's too late for Bryant in this project, he's wiser for his next project.
And perhaps you are now, too.