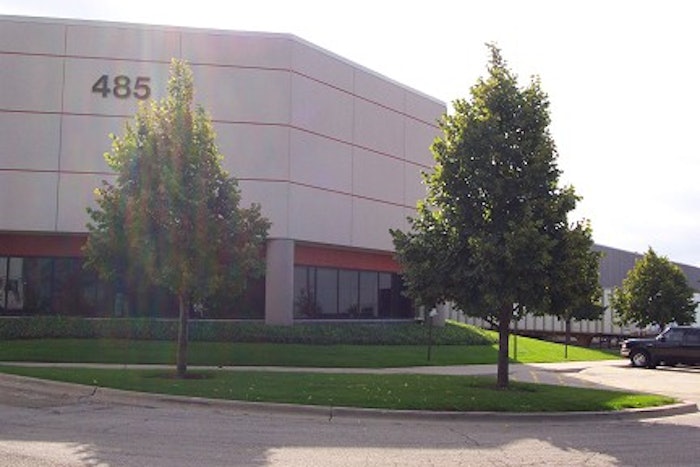 New Aaron Thomas facility to serve upper Midwest
Aaron Thomas Company Inc. has opened an 87ꯠ-sq-ft manufacturing, packaging, and warehousing facility in Bolingbrook, IL, southwest of Chicago.
This is the 32-year-old company's third facility. Aaron Thomas Co. operates facilities in Los Angeles and Memphis. The Chicago-area location completes a strategic triad of contract packaging
facilities.
"Our clients' products are now within a day's travel of 80% of the population," says Thomas Bacon, company president. "This is crucial in these days of high transportation costs and just-in-time packaging planning."
The facility in Illinois will provide packaging services to manufacturers in the upper Midwest. The expansion of service centers in key economic and distribution hubs is one of the company's strategy priorities for providing services to both
national and international customers, Bacon says.
Aaron Thomas Co. Inc.
Phone: 877/414-1382 | www.packaging.com
Study details contract packaging
A new study titled Contract Packaging: Strategic Opportunities & Profit Potential, offers a wide-ranging analysis of North America's contract packaging industry. Published by Packaging Strategies, it probes outsourcing and marketing patterns. It also identifies key players and quantifies the market's size.
For those who use contract-packaging services, planning grids provide a way to evaluate contract packaging options and suppliers. The study provides listings for 300 contract packagers in North America.
For details, visit www.packstrat.com and click on Studies and then Contract Packaging: Strategic Opportunities & Profit Potential.
CP growth forecast strong in pharmaceuticals
Opportunities for contract packagers will expand in pharmaceuticals over the next several years as drug manufacturers continue to hire outside vendors to broaden generic product lines, according to The Freedonia Group, a research company.
In addition, the increasing popularity of private-label, over-the-counter medicines and sundries will create a niche in the manufacturing and packaging of products for retailers such as CVS,
Target, Wal-Mart, and Walgreen's. Based on projected growth in production support and private-label business, demand for pharmaceutical packaging among contract packagers will increase 7.4% annually to $600 million in 2008, The Freedonia Group projected.
Reflecting the breadth of services offered, contract packagers will provide growth opportunities for most types of containers and accessories. The Freedonia Group noted, however, that many end users in this segment are backward-integrated and meet a large percentage of their packaging needs through in-house production.
A continuation of this trend will moderate overall growth opportunities for containers, closures, and related accessories sold to the contract packaging market.
CVI increases club pack capacity
Country Valley Industries (CVI), a contract packaging and assembly services company in Johnson City, NY, has expanded its capacity to produce high-volume club store packaging, shrink wrapping, clamshell packaging, and the packaging of multipiece retail products.
The company is responding to increasing demand for assembly packaging services by expanding its co-packing capacity, with additional hand-assembly and packaging lines that include 20 more packers. This increased workforce enables CVI to meet existing contracts as well as prepare for new subcontract packaging work.
CVI has also added another Shanklin shrink-wrap machine to its equipment inventory. The company operates three contract packaging and assembly facilities within 30 miles of the Greater Binghamton, NY, area. It assembles, packs, shrink wraps, warehouses, and distributes warehouse club packs and multipack products throughout the Northeast.
Country Valley Industries
Phone: 800/320-9948 | www.cvipackaging.com
Harvest Pak Foods expands in Fort Myers, FL
Harvest Pak Foods, a Fort Myers, FL, contract manufacturer and packager, has opened a food processing and packaging plant in Fort Myers. The facility will provide stand-up pouch contract packaging services to brand owners of beverages and specialty foods products.
The company is dedicating the facility to hot-fill manufacturing of premium juice, fruit concentrates, compotes, smoothies, and other vegetable and fruit exotics. They will be packaged in stand-up pouches of all sizes and formats for retail, club store, and food-service applications.
Harvest Pak Foods specializes in manufacturing shelf-stable products. All products are processed and packaged with 100% natural ingredients containing no preservatives, the company said.
Harvest Pak Foods Corp.
Phone: 239/225-0112 | www.harvestpakfoods.com
Cardinal Health wins awards
Cardinal Health, a provider of products and contract services for the health care industry, has received four supplier excellence awards from the Pharmaceutical Sourcing Group of America (PSGA), a division of Johnson & Johnson. Cardinal Health is the single-source supplier for PSGA's packaging supply components, including folding cartons and pharmaceutical literature.
PPA launches online information resource
The Paperboard Packaging Alliance (PPA) has launched www.paperboardpackaging.org, a Web site that provides current information to packaging decision-makers.
The site is a resource for contract packagers, marketers, package designers, retailers, and consumers interested in understanding the value that paperboard packaging can bring to all aspects of the product value chain.
PPA is a joint initiative of the Paperboard Packaging Council and the American Forest & Paper Association.
Exel to operate P&G Canada co-packing site
Procter & Gamble has selected Exel, a provider of supply chain management and primary and secondary packaging services, to operate the co-packing and product customization site in P&G's new Canadian Distribution Centre in Brantford, Ontario.
The customization area of the distribution center is scheduled to begin operations in October 2005, handling assembly of in-store displays and promotional packaging.
P&G selected Exel for its cost competitiveness and operational capability.
"We believe that this partnership will increase our long-term operational advantage to offer customized products for the Canadian marketplace," says Tim Penner, P&G Canada president.
Exel is the distribution center's third-party logistics provider. The 775ꯠ-sq-ft site will serve P&G's $2 billion business in Canada.
Exel
Phone: 614/865-8500 | www.exel.com
PMMI: Machinery sales to rise 7%
The Packaging Machinery Manufacturers Institute (PMMI) forecasts that U.S. packaging machinery sales will grow 7% over the next year, to $5.91 billion. This would mark the third consecutive year of growth for the industry.
PMMI's U.S. Purchasing Plans Study represents 453 decision-makers responsible for 7ꯥ packaging lines in 1겵 plants across all key segments of the U.S. market.
"End users are telling PMI that they are confident and optimistic about their business," notes Charles Yuska, PMMI president "This optimism is expressed through their capital expenditure budgets where we have seen increases in planned expenditures across all eight defined market segments that we study."
The largest increase in spending is predicted to come from the pharmaceutical and medical segment (11-13%), followed by beverages (9-11%), personal care products (7-9%), food (6-8%), and converters, printers and all other (3-5%). [CP]
Companies in this article