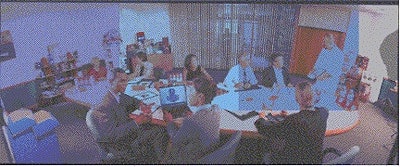 We bring packaging full circle
We sell packaging solutions not just packaging. We invest time and energy to learn how your product is packed and delivered. We review your whole packaging system to identify hidden opportunities for cost savings. When necessary we redesign packages to minimize material and reduce product damage and we have award winning graphic designers who can make your product jump off the shelf. Our professionals surround your business with products and services giving you 360 support in your search for a sustainable competitive advantage. Whether it is primary or secondary packaging needs we have the expertise quality and breath of value-added services. That's why we are The Packaging Solutions Company.
Begin with the best substrates
Smurfit-Stone's 360 packaging begins with the highest quality raw materials. From white top linerboard and corrugating medium to clay–coated recycled boxboard and kraft paper we produce the highest quality packaging substrates. With numerous containerboard and boxboard facilities located around the U.S. and Canada we are highly integrated with the largest mill system in the industry.
Solutions for every packaging challenge
The most intriguing eye-catching packages are the ones that consumers grab. We know that it is not enough for the primary package to be strong; it has to be beautiful too. Before selling anything we learn how your product will be marketed stocked and displayed. Our experts surround your business with products and services that ultimately result in a packaging solution that will boost your sales.
Need a corrugated packaging solution? How about a folding carton? Labels? Laminations? What about a flexible pouch or plastic bag?
When necessary we can even deliver a hybrid packaging solution with our Lithoflute® product a litho-laminated miniflute that combines the strength of corrugated with the high graphics printability of a folding carton.
Whatever your challenge we have a team of experienced professionals who will work with you to design just the right packaging solution to improve consumer appeal maximize shelf life and increase product sales.
Enjoy the view—come see Smurfit-Stone at Pack Expo Las Vegas 2003!
Pack Expo Las Vegas 2003 will focus on the latest developments in packaging technology and will showcase exhibitors' state-of-the-art advances in packaging machinery converting machinery materials packages and containers and components.
At the show Smurfit-Stone will present its "360 packaging" philosophy that addresses customers' entire packaging picture using a full range of paper-based packaging products and machinery solutions. Don't miss our case erector and new VPS.5™ trayformer demonstrations. The VPS.5 is a machine-erected corrugated container which provides superior stacking strength with reduced material.
Come enjoy the view and see how Smurfit-Stone can help you visualize your packaging system in 360 style.
You can find us at Booth #C2130.
Companies in this article