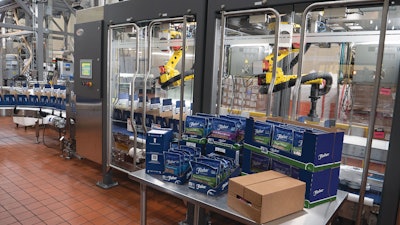 Sheltering at home, pantry-stocking, and baking are all the rage since COVID-19 reared its ugly head. One consequence has been that demand for snacking and baking products like those sold by Fisher Nuts has increased considerably. That led the firm to install a whole new packaging line in its Elgin, Ill., headquarters facility to keep up with the increased demand, which had been building even before the pandemic.
Delkor secondary packaging equipment is prominent. This is by no means Fisher Nuts' first experience with Delkor. In fact the firm was an early adopter of Delkor's Cabrio Case® in 2016. Today Fisher Nuts has eight Delkor packaging lines, all running the Cabrio Case format for their Retail Ready Packaging (RRP) needs.
"Delkor did a fantastic job of taking their Cabrio Case concept directly to the big retailers, who are our customers, and generating interest there," says John Schafer, Vice President of Engineering at Fisher Nuts. "By getting the big retailers excited about Cabrio Case, and providing free use of this innovative case design on their case packers, Delkor created a situation where Cabrio Case was rapidly pulled into the marketplace, so we didn't have to sell it to our customers much at all. It's not like we were forced into the Cabrio Case format because there are certainly other Retail Ready Packaging options out there, but they made it a whole lot easier for us to lean in Delkor's direction because they had already done all that difficult leg work with the Walmarts of the world. In addition, the Cabrio Case was more cost effective and provided great shelf appearance for the Fisher Nuts brand."
The idea with this new line was to provide Fisher Nuts with a case packing line that could accomplish the following:
• accept all 40 of their different nut mix combinations
• handle each of 14 different primary package sizes—6, 7, 8, 9, 10, 10.25, 11, 12, 14, 16, 22, and 23-oz
• package not just the retail-ready Cabrio Case mentioned above but also the other two corrugated shipper formats required by today's retailers: a conventional brown kraft shipping case and a stackable club store case (see photo above for examples of each)
• perform the above tasks yet require no more than 8 min for the packaging line—case erector, robotic loader, case sealer—to change from one case style to another
All of these goals are accomplished by three Delkor machines, which we'll explore in more detail shortly. The upstream machines feeding them include a 24-head combination scale from Ishida that sits above a KHS K260 vertical form/fill/seal machine. Integrated with the bagger is a Butler Automatic film splicing machine that, says Schafer, greatly reduces downtime caused by the need to feed in a new roll of flexible packaging film when it's called for. Also tightly integrated with this upstream configuration of primary packaging systems is some unique product mixing equipment that makes Schafer reluctant to talk about primary packaging in any real detail. "It's not like we're building the space shuttle over here, but the front end of this line is pretty special so I think we'll keep that to ourselves," says Schafer.
---
See it Live at PACK EXPO Connects Nov. 9-13: SP1 Automatic Splicer Demo, by Butler Automatic Inc. Preview the Showroom Here.
See it Live at PACK EXPO Connects Nov. 9-13: SP1 Innopack Kisters TrayPaper Packer TPP, by KHS USA, Inc. Preview the Showroom Here.
---
One thing that he does say about the bagging machine is that it has on it two date coders. One is a Videojet thermal-transfer system and the other is a Hitachi ink-jet unit. "We print black with the thermal transfer, but if we need to do white ink, we find the ink-jet works best," says Schafer.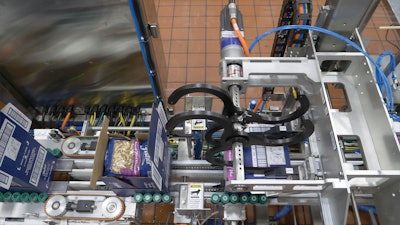 He also notes that in some cases it's not Fisher Nuts who specifies the flexible film on which the date coding must be done, let alone whether the graphics on that film require black or white ink. "In addition to our own brand we're contract packagers, so we do what the market demands," notes Schafer. "I'd say something like 65 to 70 percent of our business is contract packaging. That's also the reason why we need to be able to send 14 different bag varieties into the secondary packaging equipment and why we need to complete a changeover on that equipment in less than eight minutes.
Adjustable case forming cavity
Filled pouches drop out of the KHS bagger and pass over an Ishida checkweigher on their way to the Delkor LSP-100 case packer. That machine is fed by the Delkor Trayfecta® G-Series Case Erector. This is Fisher Nuts' first implementation of a Trayfecta erector equipped with Delkor's adjustable forming cavity.
The adjustable cavity, a new (patent pending) feature for the Trayfecta case erector, enables multiple formats and sizes to run on a single cavity. This feature enables the erector to transition among the three case styles in just 3 min.
"Since our engineering team developed this adjustable forming cavity design in 2019 we have installed about fifty Trayfecta G case erectors with this capability," says Rick Gessler, Delkor's Vice President of Engineering. "Our customers have had such success with this development that it has become the new standard. This feature enables a 3-minute changeover, is highly tolerant of warped corrugated, and the dynamic compression provides perfectly square cases."
No one appreciates these optimally squared-up cases more than Shafer. "We've had some experience over the years with failed glue joints," he says. "After all, it's corrugated, and sometimes it can get a little wonky on us, which can lead to having trouble with those glue joints. With this system we get more compression on those joints so we can tolerate board that is less than ideal."
Applying the hot melt adhesive that makes those glue joints is a Nordson ProBlue hot melt adhesive system. As for the Trayfecta's Rockwell controls platform, it features 5-axis servo control, Compact Logix PLC, and Panelview HMI. The Trayfecta G-Series offers recipe-driven changeover that minimizes the number of manual adjustments involved.
---
See it Live at PACK EXPO Connects Nov. 9-13: Money in the Bank: Operational Savings from Nordson, by Nordson Corporation. Preview the Showroom Here.
See it Live at PACK EXPO Connects Nov. 9-13: The Value of Unified Machine Control, by Rockwell Automation. Preview the Showroom Here.
---
Fisher on its new line produces 5 Cabrio Case sizes for retail ready display, two standard top-load shipping cases, and one stackable club store tray. With each shipper style on this new line the case is formed from a flat corrugated blank to minimize corrugated usage and reduce shipper cost. For example, Gessler says that by replacing the traditional Regular Slotted Carton (RSC), which includes a manufacturers joint, savings on corrugated are in the range of 15%. He estimates a 20 to 30% savings on the Cabrio Case compared to a tray/hood shelf-ready format.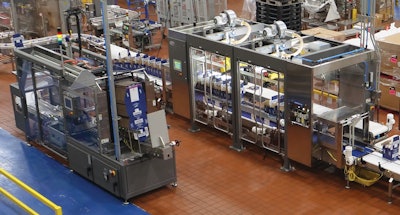 Some additional aspects of the Cabrio Case are worth noting. The display front can be tailored to best complement the product being displayed, and the size can be optimized to meet shelf-facing requirements. "In addition, the case design is provided free of charge with the purchase of Delkor equipment, with no obligations to buy your corrugated from a specific supplier," says Gessler.
Robotic case packing
Erected cases discharge from the Trayfecta case former and are conveyed a short distance to the Delkor LSP-100 case packer. Also conveyed on a path parallel to the cases are freshly filled bags of product. The LSP-100 is equipped with two Fanuc M-10 six-axis vision-based robots in combination with a full Rockwell controls platform. Delkor's vision system eliminates the need for collation chains, pushers, and buckets commonly associated with case packers, thus greatly reducing the number of, or need for, change parts. Each robot uses a vacuum end-of-arm tool to pick bags one at a time and place them into cases. The robots are programmed to share the loading of incoming products, and cases are moved between load positions with a high-speed case-feeding system. This case-feeding system, Gessler notes, is important for CPGs that are supplying their product in low case counts for e-commerce. "We can easily feed through cases at a rate needed for two-packs," adds Gessler.
The bags going into Cabrio Cases are loaded flat and shipped flat. "This means they level out nicely instead of product all settling at the bottom like it would if they went through distribution standing up vertically," says Shafer. "And then, when you open the case in the store and pull that hood off, each bag lines up vertically and looks just right."
---
See it Live at PACK EXPO Connects Nov. 9-13: A New Era of Collaborative Technology, by FANUC America Corporation. Preview the Showroom here.
---
Gessler points out that in some cases, such as when loading club store display trays, it's beneficial for primary packages to be loaded in a vertical orientation. While some makers of case packers rely on sheet metal buckets and a tipping mechanism to bring this about, the LSP-100 relies on a push-button tilt-index button on the HMI that the operator can select if needed. This automatically causes the conveyor on which the erected cases are carried to tilt at a 45-deg angle. At the same time, the robotic end-of-arm tooling tilts at a 45-deg angle just before putting its bag into the case. The net result is that when those cases exit the case packer, bags are oriented vertically. Go to pwgo.to/5744 for a video showing the conveyor tilting function:
End-of-arm tooling is typically produced on one of four 3D printers that Delkor operates. "We run anything from standard 3D printed nylon to carbon fiber-impregnated materials," says Gessler. "It lets us get really low-mass tools with high strength, which in turn helps to maximize the speed at which the robots can operate."
All that remains at this point is for the filled cases to be closed. This is performed by Delkor's Capstone F350 case sealer. Like the Trayfecta G-Series, it is able to close all three of the case formats, and it does so at speeds up to 60 cases/min. And once again it uses a Nordson unit to apply the adhesive.
Schafer says that a final piece of equipment involved is a pressure-sensitive labeler from Multi-Color Corp. that puts a pre-printed label on each case for lot and date code information. "Currently," he adds, "we palletize and stretch wrap manually."
One last observation by Shafer is in regard to how much he appreciates the modularity of the most recent Delkor systems compared to some earlier machines installed at Fisher Nuts. "You can bend and twist and curve the connecting conveyors much more readily with this modular approach and make things fit your space better," says Schafer.

Companies in this article
Videos from Nordson Corporation