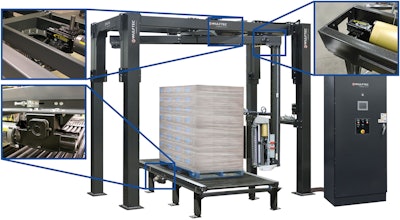 Wulftec is a well-known maker of stretch wrappers, including rotary arm, turntable, and orbital formats. Each of these machines relies on AC motors from Baldor and SE Encore speed-reducers from Winsmith. Based on inputs from a Rockwell CompactLogix controller and Rockwell PowerFlex 525 inverters, the Baldor motors are responsible for actuation. In the Model WCRT-200 machine shown here, which is capable of wrapping up to 150 loads/hr, this includes such things as lifting the film carriage, or causing the rotary arm to move, or causing the discharge conveyor to discharge a freshly wrapped pallet load. But while the motors are the source of actuation, the Winsmith speed reducers—often referred to as gear boxes—play a crucial role. By reducing the speed at which the motors rotate, they increase available torque.
"It means that a small motor running at a high speed is able to drive something very heavy at a slow speed because of the gear box ratio," says Guy Lopes, Director of Operations at Wulftec. "After reducing the motor's speed, the gear box drives a pinion, and the pinion drives a gear connected to the arm we want to rotate or the film carriage we want to raise and lower."
Quality, performance, and a compact form factor, says Lopes, are among the characteristics of the Winsmith speed reducers that make them attractive to Wulftec's machine builders and designers. But also high on the list is ease of mounting.
"We are able, through collaboration with Winsmith, to mount these gear boxes in any orientation," notes Lopes. "This is not always the case with other suppliers, who may dictate that the gear box can only be mounted vertically or horizontally, for example. This flexibility in orientation simplifies the task of integrating the Winsmith component into our machine design. But it's also valuable to our customers because if they need to replace a gear box for some reason, it's easy to do so without worrying about the peculiarities of mounting."
According to Winsmith Marketing Manager Steve Dunlap, the SE Encore line of gear boxes are the only right-angle speed reducers that offer the WinGuard Epoxy Coating System as standard. This protective measure prevents rusting and surpasses ASTM B-1000 hour salt spray testing. Also standard, notes Dunlap, is the use of Mobil Glygoyle 460 lubricant, which improves torque ratings by up to 15%. Finally, gearing that is up to 97% efficient improves torque capability and reduces operating temperatures for longer performance.
Companies in this article