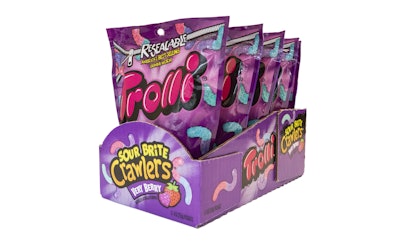 Candy packaging has been going soft as of late, with consumers increasingly enjoying the benefits of flexible stand-up pouches, such as their on-the-go convenience and resealability. Retailers like them because they are easy to display, especially when packed in retail-ready packaging (RRP). Because of the increasing popularity of SUPs for sweet treats, Ferrara Candy Co., headquartered in Forest Park, IL, has been growing its number of offerings in this format across its brands, including Trolli and Black Forest gummies, Brach's chocolates and sweets, and Lemonhead lemon-flavored candy, among others.
Ferrara operates nine facilities across its network. Its Bolingbrook, IL, facility is dedicated to storing and packaging product. The plant comprises a 1-million-sq-ft warehouse with 100,000 sq ft of space for packaging. Its output ranges from a staggering 110 to 120 million lb of product/yr, produced with the help and guidance of 300 employees on 16 packaging lines.
It's here the candy company installed two SUP machines over a period of time to accommodate the growing trend toward flexible packaging for sweets. With the first machine, operators were manually case packing the bagged products in RSCs. In July 2017, Ferrara installed a second bagger whose high speeds demanded automatic case packing, so they added a robotic case packer as well.
With the new case packer, the candy company also equipped itself with the ability to meet another growing trend: RRP. "Ferrara's marketing team observed how retail-ready packaging not only creates merchandising ease and efficiency, but also improves the consumer shopping experience by making items easier to find," says Jim Nicketta, VP-Engineering at Ferrara Candy Co.
The RRP format chosen by Ferrara is Delkor System Inc.'s patented and patents-pending Cabrio Case, a wraparound tray-hood design created from a single piece of corrugated board. The Cabrio Case features a pre-cut tray front that allows the store operator to open the hood in a single, swift motion with no cutting required. Says Jim Tandy, Director-Engineering for Ferrara, the ease of tear-away in a wraparound case and the clean look on shelf were among the features that caught Ferrara's eye.
To pack the Cabrio Case, Ferrara installed a Delkor MSP-m Series high-speed robotic case packer. In December 2017, it added a second robotic case packer, Delkor's LSP Series, for its older bagging machine. Explains Eric Williams, Engineer for Ferrara, "The MSP was appropriate for our new SUP [at 180 pouches/min], while the LSP was appropriate for the older SUP [at 80 pouches/min]. The case erector and sealer are the same on both systems. Only the loading section is different."
One of the main capabilities Ferrara was looking for in the case-packing equipment was the ability to run the Cabrio Case design across different sizes and configurations, given the multiple brands and packs that run on the lines. Both Delkor systems at Ferrara run case sizes from 4- to 30-ct bags, with the bags ranging in size from 4 to 54 oz.
The MSP-m is a modular top-load robotic case packer that can handle pouches and bags up to 2 lb, at speeds to 200/min, with a maximum case output of 50 cases/min. Ferrara's setup includes two Fanuc M-2iA pick-and-place delta robots and a two-axis gantry robot with six pick heads manufactured by Delkor.
When filled and sealed pouches exit the bagger, they are carried by conveyor to the infeed of the robotic case packer. Perpendicular to this conveyor is a pattern conveyor that extends across to another perpendicular conveyor carrying cases erected by a Delkor Trayfecta G Series case erector. As bags are conveyed into the cell, each delta robot uses vision to pick one bag from the conveyor and place it onto the pattern conveyor, making rows of three across. As rows are formed, the pattern conveyor indexes them toward the case conveyor, where a gantry robot with six heads picks three bags from one side, and three bags from the other at one time, then places each of the six pouches into each of six cases. Filled cases are then carried by conveyor to an integrated Capstone S Series case sealer that uses hot melt glue to seal the case.
The LSP top-load robotic case packer can handle pouches or bags up to 10 lb at speeds to 100/min with dual pick heads using Fanuc's M-10iA/10MS six-axis pick-and-place robots. During operation, by way of vision, each robot picks one bag at a time from an infeed conveyor and places it directly into a case. This system also includes an integrated Trayfecta G Series case erector and a Capstone S Series case sealer.
The robots for both case-packing systems are equipped with suction-style end effectors in two sizes, chosen for their ability to best handle Ferrara's wide array of packaging. Says Nicketta, "We're able to pick up both small, lightweight pouches and larger, heavier pouches."
The suction-style tooling is also well-matched to the challenges associated with handling candy products, particularly gummies. As Tandy explains, gummy candy, the largest and fastest-growing category in all of non-chocolate, tends to be sticky and clumps, and does not fill uniformly. "The flexible suction heads are great for accommodating the irregular contour of our bags before they settle," he notes.
Changeover from one bag size to another involves switching out the quick-change end effector. Changeover for different case sizes is less simple, but still quick. "Each case has a different forming cavity and associated changeparts," Williams explains. "Other than that, there are saved mechanical and programming setpoints for each case size. It takes about 10 minutes to change case sizes."
Since they were installed in 2017, the MSP-m and LSP robotic case packers have provided a number of benefits, in addition to allowing Ferrara to produce eye-catching, easy-to-display RRPs. "We were able to establish case dimensions that were specific to bag dimensions," says Nicketta. "The robots are also more precise than hand-packing. This has allowed us to minimize case sizes and therefore achieve more efficient pallet patterns."
The Cabrio Case, by design, results in a 10% to 20% reduction in corrugated versus the use of RSCs. Attests Tandy, "We have seen corrugate savings with the Cabrio Case design."
Read Part II of Packaging World's Robotics & Automation Special Report, "Robots prove their mettle."
Companies in this article