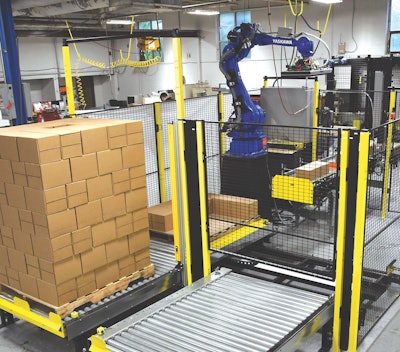 Arpac was among the very first to take advantage of a new robotic palletizing software from Yaskawa Motoman that streamlines the palletizing process by generating ideal pallet patterns and enabling robots to palletize more variations quickly and efficiently.
Called PalletSolver, this off-line PC-based tool has been a popular feature on Arpac's Arbot-LT, which is an entry-level palletizer designed for picking no more than two cases at a time and for speeds no higher than 15 cases/min. Thanks to its intuitive drag-and-drop features, PalletSolver makes it possible to quickly set robotic palletizing routines for virtually any mix of SKUs entering the Arbot-LT. Unlike the more conventional or traditional approach, where programming lines of robotic code is required to make a change in a pallet pattern, with PalletSolver a trained operator can go to the machine's teach pendant and program a new pattern with no need for input from a dedicated robot programmer.
"The software shows a series of screens that prompt users to configure the palletizer cell," says Brian Ormanic, Applications Engineer at Arpac. "It begins with the case size and then automatically looks for the patterns that will fit the most cases onto the pallet. And since the use of tier sheets between layers is not always required, it makes it easy to configure patterns that either include or exclude tier sheets."
Prior to using PalletSolver, Arpac used a PLC to control its palletizing cells. But PalletSolver allows Arpac to do away with the PLC altogether. The software not only handles programming but it also is capable of communicating with safety systems and controlling variable frequency drives for infeed and discharge conveyors. It even includes a user interface screen that acts as an HMI.
"We took a radical approach and decided to drive everything through the robot controller," says Ormanic. "By doing so we were able to eliminate the PLC, a separate control cabinet, and the HMI. But it was only through working closely with the lead software developer at Yaskawa Motoman that we were able to make this work."
One large food company that was palletizing manually on 12 lines recently ordered four Arbot-LT systems on a trial basis. It went so well, says Ormanic, that an additional four were ordered.
Companies in this article