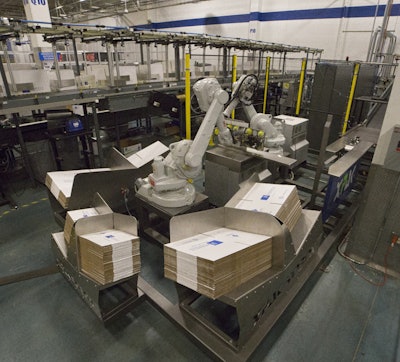 Radwell International is a leader in stocking and selling surplus and refurbished automation, Maintenance Repair and Operating products (MRO), and pneumatic, motion, electronic, hydraulic, HVAC, and electrical control equipment for plant floor and facilities maintenance machinery.
Its new headquarters facility in Willingboro, NJ, is highly automated, with an inventory management system from AutoStore for handling smaller parts, a highly sophisticated order processing and shipping center, and two miles of automated conveyors.
Radwell has also automated a more routine element of its operation: case erecting. By installing a ROBOX robotic case erector from XPAK USA, the company has achieved significant efficiencies in its shipping of smaller components. The patented case-erecting method of the ROBOX system allows Radwell to randomly erect any box in their suite on-demand and without changeover.
In Radwell's previous flagship facility, case erecting was done manually, with an order packer visually sizing up the most appropriate case size for a specific order from stacks of flat boxes. The process was time consuming and often resulted in the use of a case that was too big for the order, with packers tending to err on the high side so they wouldn't have to retrieve and erect a new box if the original one was too small.
"With most major box carriers going to Dimensional Weight Pricing, it is important that we ship as little air as possible," says Todd Radwell, Senior Vice President of Operations. "With the ROBOX system, our packers are better able to visually select the optimum box size because they are choosing from an array of constructed boxes."
The ROBOX system at Radwell features two ABB IRB 1600 six-axis robots: one to pick a flat box from one of six magazines, and another with a custom end-of-arm tool that squares the case and runs the bottom through a static folding table that folds and tapes the bottom flaps.
Once erected, cases are organized by size and are stored in chutes dedicated to each order-packing station. As an operator draws from the chute, the remaining boxes slide forward, triggering a photoeye that relays a signal through a PLC to the robot controller to make another case of that size. The system can handle a queue of multiple boxes, knocking them off one by one, with a series of conveyors routing them to the appropriate chutes.
The ROBOX system can handle up to eight different box sizes in a single cell, relying on parametric software in the robot controller to make any size on-demand with no programming or mechanical changeovers required. The cells can be customized based on the box sizes required by a specific application, handling any box size within the minimum and maximum dimensional parameters of the customer's needs.
"Where conventional box erectors can typically handle only one box size at a time, our proprietary end-of-arm tool, in conjunction with the dexterity of the ABB industrial robots, allows us to handle a wide variety of box sizes and shapes on a single system," says Tami Minond, owner of XPAK USA. "The systems are also very compact and able to withstand harsh industrial environments."
Each custom end-of-arm tool is carefully designed to suit a given customer's box suite, using an optimized array of vacuum zones to erect and tape a wide range of box sizes. Each picking tool is outfitted with an analog laser gauge that communicates the current magazine fill level back to the ABB controller, where it is displayed on the Flex Pendant HMI. Each of the end-of-arm tools is also outfitted with box presence detection, allowing the ABB robots to continuously monitor their own erecting cycle, and providing the end user with real-time failure recovery.
ABB's RobotStudio simulation software allows XPAK to specify the best robot models for each system, while verifying the cycle times and speeds prior to the system being built. Once a ROBOX system is installed, new box sizes can be easily added within the established minimum and maximum size range. The operator just plugs in the box dimensions and saves them under a SKU, and the system adjusts to the new box size on-the-fly.
With the ROBOX capable of speeds to 360 boxes/hr, Radwell has seen a productivity increase of 300% compared to the manual case-erecting process. The longer-term goal is to get close to 720 boxes/hr to keep up with its continually increasing shipping volume.
"The system has been able to keep up with our shipping demand, and we expect that to continue as we grow," says Radwell. "In addition to allowing us to minimize our shipping costs, the ROBOX system helps us save on corrugated and tape, while minimizing the recycling burden of our customers on the receiving end."
Companies in this article