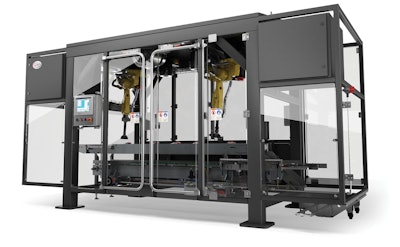 Designed for automatic top-load case packing of large pouches weighing up to 10 lb, the LSP Series from Delkor uses two Fanuc M10 robots that work together to accept pouches in any orientation on the infeed conveyor (see video here: pwgo.to/2947). The machine's rated speed is 100 pouches/min, and case styles can range from standard corrugated shippers to retail-ready options like Delkor's own Cabrio Case.
Versatility and quick changeover is a hallmark of this machine, which comes in three "flavors," as it were, when it comes to adjustment of formats, end stops, tools, and other positioning features. Mechanical digital position indicators from SIKO can be relied upon at one end of the spectrum. A step up are machines that rely on digital feedback readouts, also from SIKO. But for customers interested in maximum automation, the LSP Series now includes a case packer whose positioning adjustments are driven by SIKO's intelligent AG25 actuator. "You don't even have to open the machine's guard door," says Delkor's Rick Gessler. "The operator at the HMI selects the next production run from the menu and the necessary positioning changes are done automatically. We've had the AG25 available as a configurable option since late 2016."
Gessler says that when it came to specifying whose intelligent actuator would be utilized, SIKO went to the top of the list partly on the strength of their reputation. But also a factor was that progressing between the different levels of automation SIKO offers is so painless. "To go from a mechanical SIKO readout to a fully-automatic AG25 doesn't require complicated machine parts or numerous different mounting adaptations," says Gessler. "They make it pretty cut and dried as you go from one to the next in terms of machine design."
According to SIKO, the new AG25 actuator is the same as the tried and tested AG05 positioning drive as far as electric motor and gearing are concerned. In addition to the data interfaces that it has offered for some time, SIKO has added the industrial Fieldbus interfaces Ethernet/IP, Profinet and EtherCAT, Sercos III, and POWERLINK. These allow flexible design of a wide range of line and ring topologies.
Companies in this article