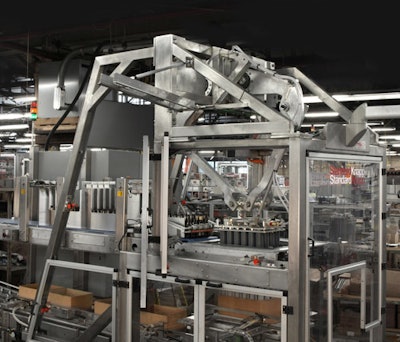 Standard-Knapp responded with an innovative solution that picks the product from the infeed conveyor and gently places it into the bottom of the empty case. The company now reports virtually zero packaging breakage and has increased throughput by about 10 percent because of increased efficiency and less down time.
Kansas City, MO-based Boulevard Brewing Company is the 10th largest craft and 17th largest overall brewery in the U.S. Boulevard. It currently offers seven year-round and five seasonal brews, as well as a rotating line of artisanal beers named for its iconic brick smokestack, packaged in 750ml bottles, 12-ounce four-packs, and kegs.
During 1990, the first full year of production, the company sold 1,747 barrels (bbls) of beer. By 2011, the company had sold the equivalent of more than 46 million 12-ounce servings and is aiming on brewing about 188,000 bbls in 2013. With growth like that, it's not surprising that the brewery reached capacity. In 2005, Boulevard broke ground on a 70,000 square foot expansion, and now has a total brewing capacity of 600,000 bbls.
Along with the new facility, Boulevard needed to invest in a packaging line that could keep up with its phenomenal growth. As Boulevard director of engineering Mike Utz explains, Boulevard began working on a high-speed packaging line in 2008, after the facility expansion was completed. "We opted to go with repurposed and reconditioned equipment for the new line, which included a drop packer." Boulevard eventually selected used equipment from Standard-Knapp, a Portland, CT-based manufacturer of packaging machinery.
Boulevard had the unit, a 939S Versatron, rebuilt and converted to its product range. Here's where things got tricky. While the equipment met Boulevard's need for speed, it came with a price – a high bottle breakage rate during packaging that was exacerbated by the lighter weight bottles that are becoming the industry norm. According to Utz, the trend towards use of light weight glass bottles saves on money and materials, but makes the bottles weaker and less able to stand up to rugged drop packing. Also, the company uses dividerless packaging for a number of package sizes (6, 12, and 20 packs) so the packer had to hit perfectly because there were no separators.
According to Utz, "We wanted to stick with the traditional packaging that was part of our image, but the glass on glass packaging led to an unacceptable breakage rate."
Standard-Knapp worked closely with Boulevard to find a solution to the breakage issue. Brian Stearns, mechanical engineer for Standard-Knapp, explains, "The used drop packer Boulevard Brewing originally purchased was developed for a different purpose and more for a company at a different stage in its development. It was not well suited for their capacity and their need for different bottle and case types, which is why they experienced breakage."
The solution Boulevard arrived at involved retrofitting the 939S Versatron case packer with a brand new upgrade, called the Pic-N-Place module, which picks the product from the infeed conveyor and gently places it into the bottom of the empty case. It gave Boulevard soft container handling and is engineered to grab product in the optimum, most secure position or spot. The module virtually eliminated packaging breakage.
The 2-axis servo controlled Pic-N-Place acts just like a person's arms, offering smooth operation. The system is easy to program and easy to maintain consistent operation. The PLC configurable placement profiles make it easy to configure gripping action, and the distance that the product travels into the case is easily set from the operator interface.
The Pic-N-Place's heavy duty construction includes mechanical grippers with long life and high uptime is engineered to run 24/7. It packs every last bottle, and no human assistance is needed to complete the process.
The Pic-N-Place was initially developed for increasing speed in lowering head applications but was later considered an option that would work well for dealing with the trend toward lighter glass and partitionless packaging. Stearns explains that the industry is moving in the direction of reducing packaging materials, so everyone is going towards thinner glass and partitionless cartons. "You need extremely versatile equipment to be able to handle all those different bottle types and do it all at high speeds." Installing the new unit at Boulevard was a win-win for both companies – Boulevard instantly solved its packaging breakage problem and Standard Knapp confirmed that Pic-N-Place's is the perfect option for partitionless packaging.
The new module was installed quickly and easily at the end of 2012, over the long holiday weekend. After a bit of testing that included hand-placing bottles to check out carton size, Boulevard began with a 4-hour shift the first day, and moved to 100 percent production by the following day. The quick commissioning and optimization schedule was helped by the fact that workers were already familiar with the machine and only had to make a very small change to go from drop-packing to the Pic-N-Place module.
"We now have just about zero breakage at the packaging step," says Boulevard's Utz, who notes that they set production records during the second week of operation, increasing throughput by about 10 percent. "We sent more finished cases down to our palletizer than ever before. The machine is not faster, but the efficiency is much greater and there is less down time, less disruption to the flow of beer, and more packages."
He notes that before the module was installed, workers were faced with frequent shutdowns, and had to stop the line to clean out the packer and start it up again. They also had been faced with contamination further down the line. "Standard-Knapp worked with us to resolve the problems and provided an engineered solution that could fit into the existing footprint, which was important, since the packaging line is shoe-horned into the space and we did not have a lot of extra space," says Utz.
He adds that he was very pleased with the engineering of the equipment. "Retrofitting the new system to the existing machine was done very well. This was a novel concept in the packaging industry, and I was impressed with their commitment to making it work and the quality of the solution once delivered. This solution allowed us to keep our packaging the way it was, which was an important benefit for Boulevard."
Since its installation at Boulevard Brewing Company, several other brewers have visited the site to watch it in action. "Everyone who lays their eyes on it is excited and can't wait to get their hands on it," says Stearns.
Companies in this article